Kitty Margolis's improvisational skills are among the best I've ever heard, and I asked her how it is that she's able to do it with such seeming ease.
"When I'm improvising, I'm not thinking about anything. Nothing."
Kitty leans forward and grins.
"It's the old Buddhist hot dog joke, you know...'make me one with everything'..."
She sits back, rolling her eyes.
"But in those moments, it's the truth. You're one with the band, one with the audience. The ego is not part of the picture. It's utterly transpersonal."
Kitty hums a bit, then hurries into a brief few measures of free singing, a moment of a cappella bebop improvisation.
"Scat, for example."
Something for which she is justifiably famous. For a stellar example, you can go to Kitty's most recent album Heart & Soul: Live in San Francisco and her amazing take on George Gershwin's "Summertime."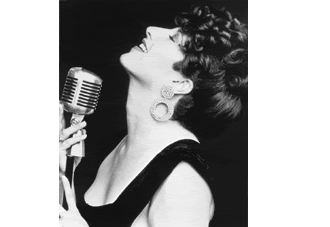 "It's wordless improvising. I always think of it as phonic sounds that sound like a language, as opposed to just syllables and notes. It's always pure improvisation."
So one sequence of scat singing, for example, is unlike all others? No two are the same?
"Never. Even if I memorized a scat passage note for note, I could never repeat it exactly. When I'm singing like that, I never know what's going to come out of my mouth."
Here, the notion of "error" comes into the conversation. Or — a better term — of "the unintended moment."
Art very frequently comes about because of accident. In my own work as a novelist, when I've been improvising the first draft, I've often written something that at first seems of little consequence - certainly not part of the "sequence" of things as I've written them previously. It's a surprise.
I wrote a book of stories entitled The Day Nothing Happened, all of which have the same main character, a State Department official named Dan Collins. He's working on the island of Borneo just after the British colonialists have left. In one of the stories, which takes place in the far upriver jungle, I mentioned in one sentence a dead tribesman on the trail. It took me perhaps twenty seconds to write the sentence that described this man. I hadn't really thought about it. It simply came out of me.