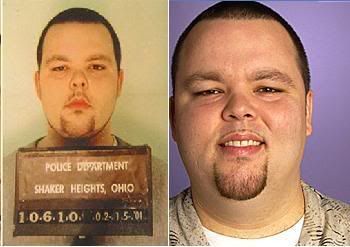 (This blog entry has also been published in my "true crime" weblog
---
Scott Savol, one of the current American Idol finalists (as of April 1, 2005, that is), has a domestic violence rap sheet.
Hey, if The Smoking Gun says it - American Idol Finalist's Violence Rap...
A quote from the site:

"MARCH 31--An American Idol finalist was once arrested for felony domestic violence after roughing up his infant son's mother during a Valentine's Day fracas, The Smoking Gun has learned. According to police, 28-year-old Scott Savol, one of the remaining nine "Idol" contestants, was busted following a February 2001 confrontation with Michele Martin at the woman's Ohio home..." ~ You can also click the mugshot of Scott at the top of the page to see the Smoking Gun's page.
From the police report posted by TSG:

"...The suspect (Savol ~ S.H.) shoved the victim and pulled the phone out of her hand and threw it at her, hitting her in the chest(...)According to the victim, the suspect made several verbal threats to her in the past by telling her to 'watch her back.' These have not been reported till now(...)She also stated that she did not wish to prosecute the suspect, she stated that she wants him to remove his belongings..."
My wife and I are pretty religious viewers of Idol, and we've both liked Scott Savol. He's got a big, powerful, natural pop tenor and can sometimes really sell a song, though lately he sounds fatigued. I think we've liked it that he was also, in interviews, so lacking in made-for-TV glossiness - just a dude with a voice, not some fresh-faced pretty boy who seems just as ready-made for singing show-tunes in theme parks as that show. He's the kind of guy you might expect to have selling you cell phones at Best Buy or bringing pizza to your door, and considering that he's made it to American Idol, to say those things are compliments, from me - other contestants in the past and now seem too polished and telegenic already, simply not real enough.
Admittedly, with the caliber of some of the other singers - Carrie Underwood, Bo Bice, just to name a couple - it doesn't look to me like Scott will win anyway, but it was still nice to see such a regular dude up there.