I saw Me Talk Pretty perform live at a recent party at The Delancey, a rock club in Manhattan. The party was to celebrate the web launch of a rock promotion group that goes by the name of
rockNdolls and uses a somewhat "unique" approach... Check them out and you will see what I mean. The bad consists of four members; JULIA PREOTU (vocals), LEON LYAZIDI (guitars), CHRIS FOSTER (bass) and JAMES KLUZ (drums). These members bring an interesting mix of cultural influences and a great deal of talent to the band. Leon, who founded the band has his Spanish roots to draw on and Julia, who emigrated to the United States just three years ago, has her Romanian heritage (which is still quite evident every time she speaks). It is her accent from which the band derived it's name; "Me Talk Pretty".
The result of this mix is a sound which utilizes sometimes familiar and sometimes more progressive types of melodies to compliment, support and accentuate Julia's beautiful voice. She is gifted with a powerful mid-range which is where she seems most comfortable and yet she can easily catch and hold the soaring high notes which punctuate some of their songs. While I was listening to the band perform I was trying to hear hints of other artists in her voice so that I could have something to compare her to. I was hearing a little Grace Slick from early Jefferson Airplane at one moment and maybe some Debbie Harry in another. Her voice is unique and, for me, her slight accent adds something to the material. While she may not have the wide vocal range of Pat Benetar I think that she sounds somewhat similar to her too.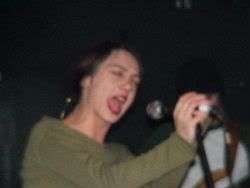 The EP consists of seven original songs. That may seem like a pretty small number but this EP is complete and doesn't need any more. Julia wrote the lyrics to all of the songs on the EP. Her themes seem to vary between explorations into her own inner self, somewhat reminiscent of Alanis Morrisette's "Jagged Little Pill", such as their song "Save Me", to deeper, more complex themes as in the title track of the EP "ANA".