There are not many men in the world who can group together punk rockers, metal heads, and hippies for a fun fulfilled evening, but Les Claypool did the trick on Tuesday at the House of Blues in Cleveland, Ohio. Most commonly known as the guy who was in Primus, Sausage, and Oysterhead, Les Claypool played to a full house in support of his latest CD release Of Whales & Woe and also for his DVD that was released May 29th called Fancy.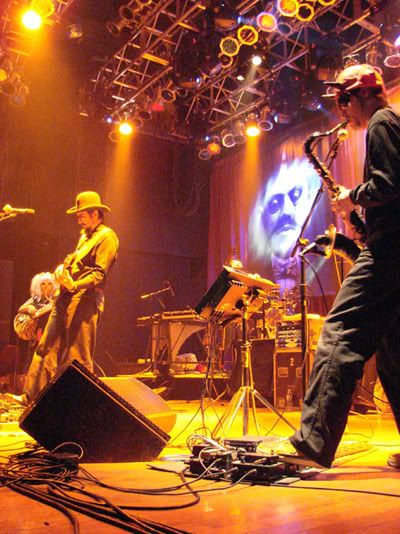 There is really no one else out there who can play the bass the way Les Claypool does. He's been playing alternative experimental rock music since the mid-eighties. He looks like your average joe but manipulates the bass guitar in ways that many have never heard nor seen. He plays with his fingers, his invincible thumb, sometimes with a bow, and even sometimes plays on instruments that he creates. Joining him on stage was the Fancy Band that included Gabby La La who played some amazing sitar, saxophonist Skerik, percussionist Mike Dillon, and special guest drummer, Cake's Paulo Baldi.
Opening the performance with "One Better", Les Claypool wasted no time in showing off what he does best. Every single fan in the crowd moved their head or danced in approval. Covering King Crimson's "Thela Hun Ginjeet" was a great treat to all who attended even if they had no idea it was a cover. "Of Whales And Woe" was another track from his latest album that I had not heard yet, but did enjoy.
A few songs into the show Les Claypool held a little jam session that amused most of the crowd. Some people who came to the show hoping to see Les Claypool slapping his bass and kicking out his foot got to see a side that they may or may not have enjoyed. This little jam episode was entertaining but not for all who attended.