Continuing the bass theme of last week's column, this week's column focuses on the rock/pop bass skills of Mark King and his group Level 42.
Before I describe their best work, I'll grant you this: yes, much of their 80s material falls victim to then-common overproduction and heavy dependence on synthesizers. Sure, they scored only one major hit in the U.S.: "Something About You" from 1985's World Machine album. I admit that, while suffering from synthesizer overkill, their follow-up album Running in the Family has long been a guilty pleasure of mine. In fact, I posit that "It's Over" is one of the best ballads of the 80s, and still packs an emotional punch today.
However, it's their earlier material, which never charted in America, that makes Level 42 stand out from other 80s bands. U.S. music fans may not know that the group began as a jazz-fusion group, driven by King's "slap bass" style, a style popularized by Larry Graham (Sly & the Family Stone and Graham Central Station) and Bootsy Collins, among other artists. For more information on slap bass style, check out Wikipedia's entry and the always excellent Bass Player Magazine site. Rounded out by original members Phil Gould (drums), Boon Gould (guitar), and Mike Lindup (keyboards and vocals), Level 42 formed in 1980, primarily composing instrumentals. However, their record company encouraged them to add more vocals to their material to achieve greater mainstream success. Thus King emerged as the lead singer for most of their tracks, and they transformed into an R&B-influenced group. Thus the period between 1980-1985 remains their most creative, soulful, and natural.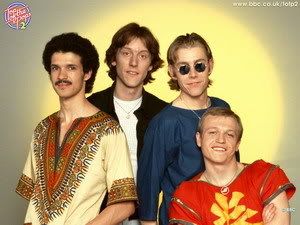 Their self-titled debut album (1981) showcases their funky sound and jazz leanings. "Love Games," a disco-tinged cut, prominently features King's slap bass and vocal interplay between King's funkier vocals and Lindup's gentle falsetto. Lindup also propels "Starchild," a catchy merging of R&B and jazz chord changes, while "Turn It On" shows King's considerable bass skills. Their artistic growth continues with their next release, Strategy, which features standout instrumental tracks like "88" and "Mr. Pink," along with a personal favorite, "Wings of Love." 1982's The Pursuit of Accidents began leaning toward a pop sound, as evidenced by "Are You Hearing (What I Hear)," an up-tempo cut fueled by King's lightning-fast playing and new-wave synthesizers. "The Chinese Way," while filled with mythical images, manages to sound closer to pop without sacrificing their funk roots. Finally, "Weave Your Spell" transcends the typical "boy meets girl" genre through King's bass groove and Lindup's simple, clear vocal. I defy you to listen to this song without at least tapping your foot to the infectious beat.