Toto, we aren't in 1976 anymore.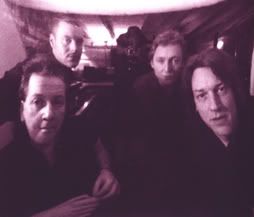 The punk rockers from down under are back with their new album, Nothing Is Straight In My House. With a nice mélange of fast and slow-paced guitar work and ferocious drums, the Saints have obviously grown up, cleaned up their sound and are in no way ready to quit.
Frontman and principle songwriter Chris Bailey is a rock icon. Broody, sexy, dark, and definitely mysterious, his vocals on Nothing Is Straight In My House have grown from a punk rock sneer to a mix of visceral and primal energy released on these twelve gritty bluesy-rock tracks.
The maelstrom of intensity on the opener, "Porno Movies", is a testament to how punk rock should sound. No pretense, no fluff, just pure and simple guitars, drums and that oh-so-raw voice of Bailey leading the pack of wolves to feed.
Title track "Nothing Is Straight In My House" leads the album into that more grown up sound, bordering somewhere between a bluesy rock and punk, with Bailey's voice getting grittier, the lyrics darker.
"Digging A Hole" is one of the best songs on the album. Much slower than what you may expect from a punk rock band said to once be "Australia's answer to the Sex Pistols". With world-weary lyrics Bailey sings with melancholy and strikes that viscera wrenching chord ("I'm diggin a hole / do you want to join me in it? / I'm digging it deep so the world understands / I'm diggin' a hole / Do you want to join me in it / Because I want to rise again").
"I Couldn't Help Myself" is stripped and bare, a gorgeously written track with a heavy blues influence and more grit and gravelly sounding vocals.
A personal favorite track on the album is "Garden Dark". A slow, intense melodic song with screaming guitars, passionate lyrics and yes, those vocals of Bailey's make me hot.
Nothing Is Straight In My House was created over a span of three weeks in Amsterdam where Bailey and the band currently live and is being released on United For Opportunity on October 25th, 2005.