Tony Lucca on his new album Canyon Songs: "All of the songs on the record were either written and or recorded in the Hollywood Hills, specifically Laurel and Beachwood Canyons. A lot of my favorite artists, as well as most of my favorite records, were inspired by those magical locations. There really is something other-worldly about it. As we got further along in the making of the record, I felt like we had managed to capture a bit of that timelessness for ourselves." The song "Darlin' I" is one of this week's GHIDRAH picks.
MRNORTH returns in early '07 with their new album Fear & Desire, but in the meantime band fans can enjoy a digital-only EP, Sleeping Dogs, which is set for release in November. The five-song virtual platter was recorded at the same time as the forthcoming album, and both came together in three different bursts of creativity over the last six months. They were recorded and mixed at Stratosphere Sounds in New York and the state-of-the-art RED Studios in San Francisco. They enlisted the production and engineering prowess of Steve Lyon (Depeche Mode, The Cure) and co-mixer Keith Hilldebrant (Nine Inch Nails); the result is a sonic departure in which the band finally achieved what they've wanted to for years - a record that fully captures the massive sound and energy that pervades their dynamic live sets.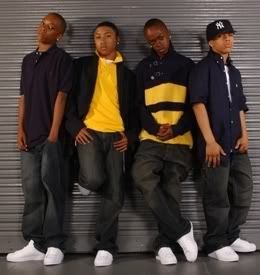 2 Much is the type of group both destined to be embraced by both teens and their parents. "I know this might be a big cliché," says stage and film star Omarion (and cousin of band member Milo Stokes) "but I think they're B2K, a different version - a better version. Together, the four members of 2 Much fuse such diverse musical influences as the Jackson 5, Marvin Gaye and Jay Z, plus classic soul. All four members have been singing and dancing all their lives, whether in front of friends, family, classmates or even the public. Performing, says band member Chris Cheeks, "is the best feeling, it's like a rush, a crazy rush, it's a totally different experience than what people take it for - I'm a different person when I'm up there." Listen to the track "Fire" from their forthcoming album.