From there, Thom Yorke and company will be in Europe for most of the summer. Since their current itinerary leaves the rest of fall wide open — and nothing at all has yet been announced for the West Coast — it is almost certain that more dates will be added. In addition to The King Of Limbs album, Radiohead will likely be trying out some new, unreleased material as well. You'll find the complete schedule posted at Radiohead.com.
Bruce Springsteen And The E Street Band: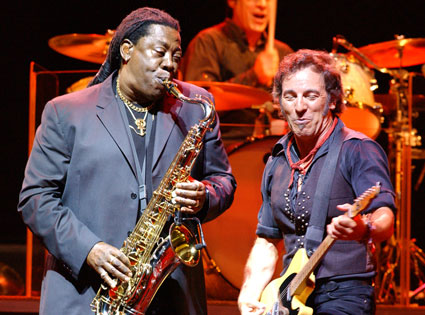 Since the original announcement of a 2012 E Street Band album and tour back in November, all we really know at this point is that Springsteen will be spending a lot of time in Europe this summer.
Beyond that initial burst of news, the Springsteen camp has remained frustratingly silent about any American dates, fueling all kinds of thus far unsubstantiated rumors in the fan community.
The most common story is that Springsteen will do a string of U.S. dates this spring, and his keynote address gig at this year's South By Southwest conference in Austin seems to back this scenario. However, with March fast approaching, and still no word, that window is also closing fast. There has likewise been no word of a replacement yet to fill the very big shoes of a certain very Big Man. There has also been no release date set for Springsteen's new album, which likely consists of sessions recorded last year with producer Ron Aniello, and has been described by Bob Seger as "really unusual" and "the best thing that he's done in years."
The most likely scenario for an American tour at this point looks to be a fall run, although I would love to be proved wrong and see a few, select stateside shows in March. The best place to check for any new info on Springsteen dates is Backstreets Magazine.