Music Video Codes By HotGet.com
Black Crowes
Lickin' Lyrics
Your eyes they look like two bullet holes
And you don't ever say "maybe"
You knock me out with the way you talk
I like the way you say "baby"
You want a mouthful of scorpio
Yeah, but my poison be tasty
You bite my finger and say "control"
You won't let me be lazy
(Chorus)
Night and day like a mule I'm kickin'

Girl you gonna catch a lickin' yeah
(catch a lickin')
Night and day like a mule I'm kickin'
Girl you gonna catch a lickin' yeah
Imagine this, spending New Year's Eve in Madison Square Garden with 10,000 of your closest friends. On stage is the band that was once thought to be the modern Led Zeppelin and they are rocking up a storm.You are enjoying an open bar all night with roving champagne and beer waiters. There is dancing but it is somewhat limited your own personal space and the space of the person next to you should they care to join in.
Does that sound like a fantasy? Maybe but that was how it was last night when I went to see the Black Crowes. The Crowes rocked the Garden plain and simple. The Robinson Brothers and the rest of the band have lost nothing during their breakup as a band. If anything I thought they were more focused and enjoying their performance more than they used to in the height of their glory days.


Image Source blackcrowes.net
The picture above is a good representation of what last night's performance looked like. The many lighted candelabras were there, etc.. They performed all their classics flawlessly and the audience reacted. Nearly everyone was on their feet for the whole concert swaying in place or dancing in the limited space alotted to them between the rows of chairs or in the aisles.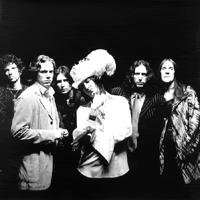 Image Source ticketvision.com
The beer and champagne was flowing and it was a really, really great way to welcome in a New Year. At midnight the band invited their two opening acts on stage along with some fans. They turned up the lights and sang; "May the Circle Be Unbroken". The entire audience joined in. It was the best New Years' party that I have been to in a long time. I made some new friends and found the magic of the Black Crowes all over again.
<!—Edited/Published: CMP-->
Powered by

Sidelines