Averaging about 19.6 million viewers this season and actually beating ratings juggernaut (and sister show) Desperate Housewives for a few weeks (thanks in large part to a certain bomb and the Superbowl), Grey's Anatomy has become a bona fide hit for the, at one point, desperate ABC.
Its ratings have cooled down since its monster post-Superbowl numbers, but the show is still holding its own, which should be further proven in the coming weeks as May sweeps heat up and Grey's Anatomy unveils its three-part Season Finale.
Grey's, which was a mid-season replacement for the James Spader legal dramedy Boston Legal — a show that was not doing well in the 10:00 time slot behind Housewives — has enamored critics and audiences in the past year and a half. The show ended up netting much more of Housewives' audience than Boston Legal did and allowed ABC to monopolize Sunday nights, including the hour before Housewives with Extreme Makeover: Home Edition.
Patrick Dempsey, known for Sweet Home Alabama and Scream 3, plays Derek Shepherd, the love interest of main character Meredith Gray (of the title), played by Ellen Pompeo (Moonlight Mile and Catch Me If You Can). At the end of the first season, after Meredith and Derek have played out their romance, it is revealed that Derek is in fact married. This obstacle to their romance provided the major storyline for season two.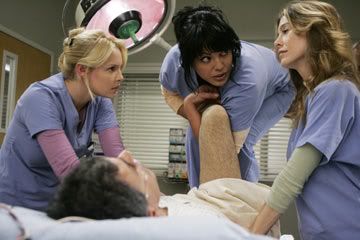 Other notable performers are Golden Globe and Screen Actors Guild award winner Sandra Oh, whose Cristina Yang not only provides diversity to the show along with her co-stars Isaiah Washington (Dr. Preston Burke), Chandra Wilson (Dr. Miranda Bailey), and James Pickens Jr. (Dr. Richard Webber), but brings a sardonic wit to the show that balances out its inherent melodrama.
Other stars include Kate Walsh as Addison Shepherd, Derek's tough but compassionate wife, Justin Chambers as the obligatory sexy hospital villan Alex Karev, T.R. Knight as the shy and lovable George O'Malley, and Katherine Heigl as the smart but emotional Izzie Stevenson. Katharine, whose character on the show is quite nice, is apparently, sources say — not so much. Heigl reportedly had a temper tantrum on set a few weeks ago — according to sources, she is nothing like her good-hearted character. I think it's a load of crap, but you never know with performers.
Like Housewives, Grey's Anatomy has come under a little scrutiny lately for its lagging storylines and cooling humor, as well as having many fans voice their disdain for Ellen Pompeo's gratuitous "Mary Alice-esque" "A-wise-man-once-said" narration at the beginning and end of the show. Needless to say however, the show is still going strong.
Star Pulse reports what's coming up on Grey's Anatomy May 14 and 15:
"17 Seconds" – Finn gives a health update on Doc, Meredith has to work with Callie for the day and George must spend the day with McDreamy. Meanwhile Burke and Izzie are still searching for a heart for Denny. This is all going down on part one of the season finale on Sunday, May 14.

In the first hour of part two of the season finale — "Deterioration of the Fight or Flight Response" — Izzie and George take care of Denny while the clock continues to tick for finding him a new heart. Cristina is in charge of an ER and Dr. Shepherd (the male one) find himself with his friend's life in his hands.

In the second hour, "Losing My Religion," Richard investigates a patient's condition, Callie finally grills George about his feelings for her, and Meredith and Derek talk about Doc. Part two of the season finale of "Grey's Anatomy" airs Monday, May 15.