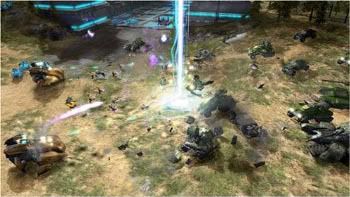 You start off with basic marines as ground units, but can upgrade them into deadlier soldiers called ODST (Orbital Drop Shock Trooper). These are the top of the line marines which are twice strong and preferred if you're going into combat. Along with the ODSTs, you can also control the beloved Scorpion tank and its upgrade, the GRIZZLY. As for the Covenant, you are able to control grunts, hunters, jackals, and of course, the locust. The locust is the smaller version of the Scarab, which you can also control but costs a hefty amount.
Unfortunately, there is no campaign for the Covenant forces. As for playing as the Covenant forces, you would have to play the Skirmishes, online, or connect your Xbox 360 to another console and play a friend in a one-on-one.
Unlike most RTS games (e.g. Age of Empires, Empire Earth, Age of Mythology), Halo Wars makes it somewhat easier to produce materials to build your base. In most RTS, there is more than one piece of material required to build a unit or building. In Halo Wars, all that is required to train your units or build your buildings are supplies which are obtained from the Spirit of Fire (or the mother ship) above. Building a supply pad is how to achieve this getting your supplies.
Although Halo Wars was not a product of Bungie, who made the the first, second and third Halo installments, it's still a nicely made game. It still has all the same vehicles, units, and sounds. The sounds are still amazing. You can hear everything in Halo Wars as you would in any of the other Halo installments. If you listen when a Spartan loses his or her shield, you'll hear it charge back up. All of the weapons and vehicles sound the same also, to make it more of a familiar feeling for previous Halo fans.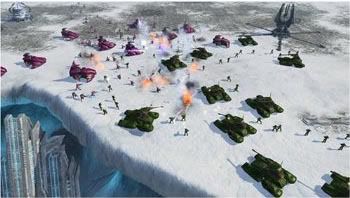 If you had a Spartan, they also had shields along with a Dual SMPs, Chaingun, and a Spartan laser. All of which are obtained by upgrading your Spartan unit at the barracks. Spartans can still take control of enemy vehicles which is a very nice thing to have when you are being attacked by the entire enemy army.