This Nintendo DS title originated from the Playstation 2, where it was a wacky game. Now, it hops into your pockets, with all the crazy puzzles and boss battles from the original with a touch screen twist. Despite its slow-moving pace, it is still a good game. Unfortunately, Cookie & Cream suffers from non-innovative use of the touch screen. The game basically requires the user to do the same motions over and over with no creative use of the touch screen.
Cookie & Cream follows two bunnies through different adventures to find a missing moon. Sadly, the story does not come in during the game besides the opening/ending. You follow the bunnies through numerous islands and adventures. The game has a cute aura about it throughout, with very bright colors animals aplenty.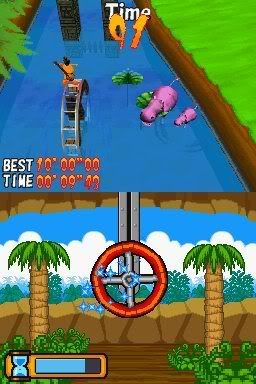 Cookie & Cream is totally linear, no exploring whatsoever. The game gets tricky when you have to use both screens at the same to time solve puzzles. Moving with the D-pad and flipping switches with the touch-screen can become a very frustrating job if you can't do two things at once. Even jumping to platforms can be tricky because of the perspective you see the top bunny.
The game also gives you some incentive to go back and re-play some levels. Since the levels are time based, the faster you go the better. Usually, on your first play through the times are pretty horrible. But, by the end o the game you learn the "tricks" of the game, which helps you and takes away all the challenge. You can use these tricks to achieve fast times in the levels, unlocking bonus mini-games for you to play with. Most of the mini-games originated from the puzzles from the campaign.