Are you into playing retro classics? Do you like top-down shooter games? Have you always wanted to be a little ball in space just floating around searching for crystals? Are you interested in playing an old-school game that introduced those using Macs to gaming? Well, if so, then Crystal Quest is the game for you.
Twenty-one years after it became the first color game for the Mac, and after millions of gamers played with it, Crystal Quest is back on yet another platform. Ported for Nintendo, and Plam, a downloadable version on the Xbox 360, and one of the launch titles for Windows Vista, this game has enamored millions throughout its run. Crystal Quest for the iPhone and the iPod Touch features updated graphics and a whole new dimension. Featuring infinite levels and vibrant colors, this game is perfect for you. Oh, and did I forget to mention, for those who love the retro version, you can play it as well.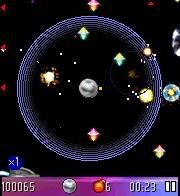 Basically, Crystal Quest is a top-down shooting space adventure. You fly around the screen, either by tilting your phone or by swiping your finger, and try to capture the all of the crystals to move on to the next 'wave' (level). Trying to stop you are the 'Nasties.' Twelve different types of Nasties are out to get you, and they all have special weapons to use. Of course, you can fight back, either shooting them with your tiny gun or by deploying a smart bomb. Using what I assume to be a complex randomizing algorithm, Crystal Quest gives you infinite levels of fun and addictive gaming at a reasonable price of $4.99.
Pros
While the graphics are not as stunning and intense as other applications and games on the iPhone, I really liked the retro style of the graphics. By keeping its original retro feel, Crystal Quest is a game that keeps its addictive properties. A nice part of the graphics, however, is the allowance to play with the older retro graphics as opposed to the newer updated ones. This gives it the aged look and also allows gamers who loved the first version to feel right at home.
The overall game play is also another thing that I enjoyed about Crystal Quest on my iPhone. The feeling of an aged style of game play, with easy goals and fun little levels, made me think back to my childhood and early gaming experiences. Let's let the original game designer, Patrick Buckland, tell you more:
"Good old-fashioned arcade games are making a comeback because they are still just as much fun as they were 25 years ago. The idea for the game came from a simple observation that people like to clean things up. Present them with a chaotic playfield and build the game around erasing it. There's something built into us all that makes this enjoyable. Crystal Quest was hardly the first game to feature such an experience, but it's probably the first game that was blatantly built around this concept.&quot