Following up on the interview Rye Randa Discusses Shaun White's Don't Look Down published last week in BC Magazine, here's the latest breaking news. I received an email on January 9, 2009, in which Rye Randa followed through with his promise to let me know as soon as he had a release date for the soundtrack. He gave me the news that January 20, 2009 is the official date for the independent soundtrack release of Don't Look Down. For those of you who missed the original interview (shame on you), here's a brief synopsis of what we learned:
The score for the documentary film is an independent effort from Rye Randa, Michael Johns, and Jeff Foxworth collectively. All three men are singers/songwriters and musicians. The soundtrack is on the (Three Rings Projects) TRP Records label, and was produced by Foxworth, Johns, and Randa. Distribution for the album is being done through Fontana.
The CD contains seventeen songs in total, eleven having vocal performances, and the rest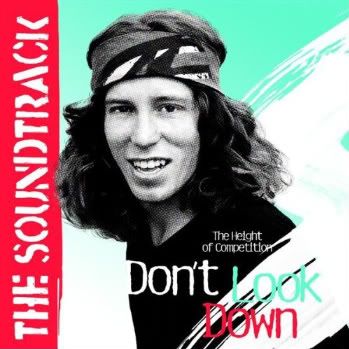 exceptional instrumentals that range from acoustic, to electronic technical genius, and then stretch all boundaries into soul thumping rock.
Michael Johns (American Idol Finalist Season 7) does vocals on ten of the songs, and Rye Randa sings "View From Up Here", the closing song for the ESPN Shaun White documentary film Don't Look Down. Jeff Foxworth puts his signature style of playing guitar on the tracks, and sings backup harmonies on some selections.
News of the soundtrack quickly traveled through blogs such as Love Me Two Times, and then stretched into forums like IDF and Michael Johns Fan Site before spanning the entire Internet with headline news of the story. Since the interview was first published here at blogcritics.org on January 6, there have been almost daily updates surfacing through news as it happens reports.
It seems the more we find out about the soundtrack, the more we want to know. Here's what I've learned since news of the DVD release was published last week.
In a forum post made by BlueMonday on January 7th, Don't Look Down was listed on the X-Dance roster and scheduled to be shown at the festival on January 18. This news fueled speculation that Rye, Michael, and Jeff might make an appearance at the event to perform songs from the soundtrack.
The next day, an ESPN news release entered the forum with credit going to BlueMonday for the exceptional find and posting the press release at Micheal Johns' message boards. Details within that article informed us there are three video-highlight reels on the DVD.
On January 9, I got the official release date in an email from Rye Randa, and took the announcement to the aforementioned blog and forums. News that good can't wait to be shared amongst fans that frequent those sites daily in search of any tidbit of information we can find about future music releases.
Within just a few hours of that announcement, the song list and link to Amazon.com was posted at Michael Johns' message boards by MaJa K, who'd gotten the link from OregonMJFan. As you can see, news travels at light speed amongst the fans and fan sites. By January 12, news had spread to mjsbigblog and American Idol forums too.
For answers to the latest round of inquiries caused by the newly surfacing stories, I went back to my original source to find out the details. Although Rye has always been courteous in his responses, I'll have to admit I was a bit reluctant in sending questions again this soon after his last interview. I jokingly reminded him that he'd put the phrase 'Talk soon' in one of his email responses, and then sent him the questions anyway.
Rye in his usual prompt and gracious manner responded within a couple of hours to my note. The man continues to impress me with his complete dedication to courtesy and professionalism. He replied, "No problem. Happy to oblige."
When I asked if the soundtrack will also be released in hard copy, in addition to the digital downloads on Amazon.com and on iTunes, he responded, "Yes, hard copy via Amazon, and digitally through iTunes and most all digital outlets."