Set 50 years in the future, Defying Gravity has been called Grey's Anatomy in space. It may also be Lost in space. But it's definitely not Lost In Space.
"Fifty years ago we didn't have iPods or cell phones or Internet or ATMs, but we still had cars, we still had houses with four walls, we still had television," said director David Straiton in a recent interview. "Fifity years from now, it's not The Jetsons. There will be inventions that we can't even think of yet, but I think life will look pretty much the same. So that's really the approach, that life isn't all that further advanced except for maybe a few gadgets along the way."
The Los Angeles-based, Toronto and Montreal-bred director is temporarily living in my 'hood, the "future city" of Vancouver, to work on the first episode, where he'll help set the tone of the 13-episode series as a whole.
"I rode my bike home the other day underneath the SkyTrain and I thought, this is the future," he recalled. "Vancouver embraces a lot of ideas that the world should become. You have a really strong public transit infrastructure, you have the SkyTrain and bike paths. A lot of people live in high-density housing, where they're building up instead of building out, and smaller apartments. That's the future."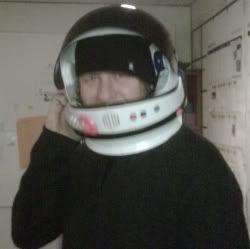 Written by Grey's Anatomy alumnus James Parriott and starring Ron Livingston, Defying Gravity focuses on the lives of mission control and the astronauts on a journey to the closest planets, with flashbacks to their pre-mission lives.
"It's a science fact show versus a science fiction show," said Straiton, defining its core themes as humanity and morality. "The show also has a mystery component, like Lost, in that we're going to discover the mission has a secret component that none of the crew know about, and it starts to affect the mission. And that's all I can tell you."
Pilot versus Series
He regularly works on various ongoing series, which is a far different experience from establishing the visual template of a new series like Defying Gravity or other pilots. "When I do House, for example, I'm walking into a show that's up and running, and I'm part of an already working mechanism. You're coming in for eight days to prep, cast, come up with whatever ideas you want as a director, and then basically eight days later you're shooting a show. With a pilot, I'm here for almost a month in prep."
"On an eight-day schedule, the first idea that jumps off the page is the idea that you'll do, because you don't have a lot of time to do anything complicated. For this one, I'm still sitting on the couch thinking about what I want to do. I'm still working on what I feel visually and tonally the show is."
He plans to inject his own sensibility on the look and feel of the series as well as influence the casting decisions, only about half of which had been finalized when we talked. The cast now includes Christina Cox, Laura Harris, Zahf Paroo, and Florentine Lahme in addition to Livingston.
"That's the ongoing challenge of any pilot. We all have our opinion on what the show should be. Whether it's just a pilot, or whether it's a pilot going to series, we all have our beliefs on what we think the characters should be like."
He makes the process sound like a win/lose proposition. "I think it's about battles that you lose and things that you have to accept. I'm not sure I believe that television is a collaborative medium. A lot of times you're working for people who have strong opinions. I'll work on House, for example, where you'll have a lot of say on stuff, and at the same time there are things that happen that you don't have any control over because you're a guest in someone else's house." No pun intended, I'm assured.
While pilots allow more time to plan, the pace of TV production doesn't generally allow for a lot of reflection. "Television is like gesture drawing," he said, explaining for the benefit of my art school ignorance the process of making quick sketches of a model's series of movements. "You never have time to fully absorb a script or get heavily intellectual with something because it's go, go, go, and then it's gone. A lot of your decisions are instinct and survival."