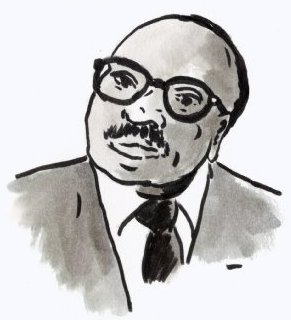 Jacob Lawrence, pen and ink, circa 1980 by F. Lennox Campello
In a Private Collection
In my own personal experience, Jacob Lawrence was very difficult as an art teacher (which sometimes means that he was also a brilliant teacher to students other than me, as I was quite an asshole as an art student), a pretty good drinking buddy, and an opinionated bastard, which is a good thing to be. But Lawrence's artwork was also without a doubt (in my opinion) one of the greatest American contributions, and he one of the greatest artists, of the 20th century.
Period.
Not "one of the greatest African American artists of the 20th century."
And Mrs. Bush shows some remarkable and simple insight in selecting this work, which was purchased for $2.5 million at a Christie's auction in May by the White House Acquisition Trust, a privately funded branch of the mansion's historical association.
According to the article, Mrs. Bush had wanted a piece by Jacob Lawrence since she had become acquainted with his work through a personal friend, who lent her a Lawrence painting that hangs in the Bushes' private dining room.
"And because it's on the wall that I look at from my chair in the dining room, I just grew to like Jacob Lawrence more and more," Mrs. Bush said.
Bravo to Mrs. Bush - she went with her guts and feelings; boo to Trescott - she went with her hard-wired "formation" in always trying to label Americans.
And I'll keep my own original Jacob Lawrence on my walls, as I have for years since I acquired it in art school, and refer to him as a great American artist when people ask me about it.
Period.