Being a celebrity isn't all it's cracked up to be. Beyond the A-list parties, luxury swag, and mass adoration is the unseemliness of intrusive photogs, obsessive fans, and a lack of privacy. But as much as the rich and famous wish the world – us – would just go away and leave them alone, they sure don't mind us when we are in the audience.
Celebrity worship is as old as religion. Be it for escapism or emulation, the symbiotic relationship shared between those we idolize and the idols themselves help to shape their world and ours. Acting as mostly passive observers of the lives of celebrities, we aren't completely blind to their manipulations, but neither are the celebs always on guard or in "persona" mode. Bits of actual truth do leak out.
Ultimately, the celebrities themselves are responsible for the success or failure of their efforts to appeal to us, and as we have all witnessed, even the most celebrated individual can fall out of favor in an instant. The journey back to our hearts can be a chasm to overcome, and for some, a point of no return.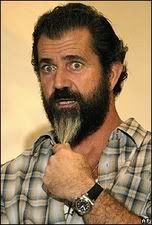 Mel Gibson's recent drunk-driving fiasco perfectly illustrates that, despite all the PR machinations in the world, you can't hide the drunken Jew-hater within forever.
When Mel Gibson barked at the arresting Malibu officers, "The Jews are responsible for all the wars in the world," he merely proved what many had already suspected. A once revered celebrity, actor, and director, Mel Gibson not so long ago waded into the waters of religious bigotry when he made his epic '04 film The Passion of The Christ, rated the most controversial film of all time by Entertainment Weekly.
In the face of Hollywood's reluctance to create the film during a time fraught with religious tension, Gibson financed, produced, wrote, and directed his controversial depiction of the last days of Jesus himself. Many felt his depiction was heavy-handed and not so subtly anti-Jewish. Through perseverance, a huge Jesus fanbase, and many interviews expressing his oneness with the Jews, Mel emerged relatively unscathed and with a smash hit film to boot.