But three cheers for LaToyia's Dad, who did get out there and beat the bushes.
He got plenty of attention.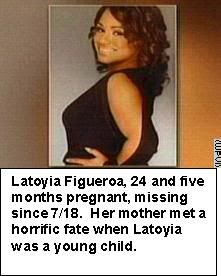 Sometimes it's the nature of the crime, the circumstances, the actions of the players, that determine which true crime gains the attention of the media.
The media has to sell advertising time to advertisers who want lots of viewers to see their product. The media tends to chase after more sensational crimes.
It's the nature of the beast and the color of a victim's skin does not make that determination.
First Blog entry on LaToyia.
~~~~~~~~~~
The Massacre of the Ducks
Seems a young man driving a red Acura got it into his head that some ducks needed to die. So he drive his car through the parking lot, driving over and killing many ducks and ducklings.
His brave and noble actions were all captured on videotape.
This fellow is going to get caught, take it to the bank.
Killing ducks might not be a true crime and the penalty for same might be insignificant.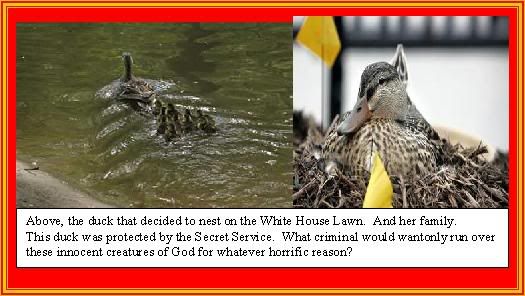 But he should be forever shamed for such inhumane and dastardly deeds.
It can't happen too soon.
Stay tuned because when they find this guy we'll feature his picture and name prominently that he may be forever admired for his brave act.
From the AP:


Police have no leads in the duck massacre at a Campbell car wash, but reward donations have topped $4,200, a manager said Saturday.
"People getting their car washed are saying, 'Add $5 or $20 for the ducks,'" said Bryan Buell, assistant manager at Delta Queen Classic Car Wash. "It's been a very heartening experience."
A video surveillance camera captured the carnage about 12:30 a.m. Aug. 5, when a young man in a red Acura drove repeatedly through the parking lot running over the ducks — including several ducklings — that live there.
Ten ducks were killed.
Car wash employees offered a reward Friday. So far, they've received calls from CNN, the "Today" show and outraged duck lovers throughout Northern California.

~~~~~~~~~~
More True Crime Updates HERE on my Blog