Intriguing crimes across the nation, notable for the type of crime, the celebrity of the criminal, or both.
~~~~~~~~~~~
Let's Put BTK Behind Us For Good
I've had quite enough of Dennis Rader.
The man who murdered 10 people for his own sexual pleasure, taunted the Kansas police for many years and now enjoys his day in the sun as he re-creates his crimes in his "confession".
There's been too many adjectives that attempt to describe this man. "Despicable" is close.
As it turned out, BTK is an unimportant little man who chased dogs, lived in a tiny house and murdered people.
Rader will never be subject to the death penalty as Kansas, in its wisdom, re-instituted the death penalty AFTER Rader had killed his tenth victim.
Why was it ever eliminated to begin with?
For Dennis Rader would be having his date with a needle had the good people of Kansas determined earlier that only death is appropriate for this man and his ilk.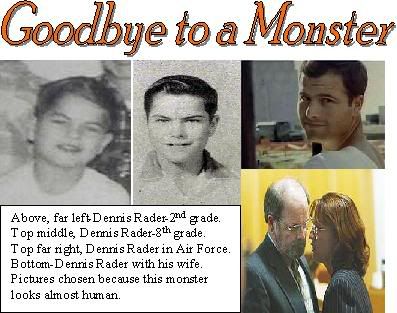 Rader was sentenced to the maximum allowed, a minimum of 175 years without chance of a parole.
The sentence hearing of Rader was one of the most bizarre spectacles human beings should have to witness.
The man launched into a long list of people he wanted to "thank". He gave the Wichita police a pat on the back, going on about their dedication and perseverance. The expression of thanks was almost a slap in the face by me. The Wichita police missed catching this guy for over 25 years. Hardly impressive police work and add to it a congratulations by the serial killer finally caught by his own hand, well I saw it as a dig by Rader.
Rader also told the judge that he cooperated with the police but then said he 'blew so much smoke' in recounting his crimes that 'nobody knows fact from fiction'.
Well Mr. Pathetic man, you had your fun and attention with your heartbreaking confession in front of families of the slain victims. Time for you to be locked in a jail and be tossed aside in the ash heap of history.
~~~~~~~~~~
Another Ray Gricar Sighting
The disappearance of this Pennsylvania prosecutor might not be resonating across the fruited plains. For by now it is very evident that Gricar is very much alive.
He was sighted once dining with an older woman near Canada. Now it's reported he was spotted in Texas, eating lunch!