Intriguing crimes across the nation, notable for the type of crime, the celebrity of the criminal, or both.
=========================
Julie Popovich-Did She Know the Guy or Not?
Julie Popovich has been described as both a "model" and an "actress".
Whatever her career, she is a pretty young woman who has disappeared.
As this true crime unfolds, it's unclear whether the woman left this Ledo's bar with someone she knew or someone her friends THOUGHT she knew.
Obviously the identification of whoever Julie left with that night is of paramount importance. All coverage of this disappearance has yet to make clear to the viewer just WHO Julie left with that night, whether or not she knew him, and if she did know him, who is he?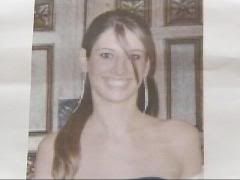 From NBC4:


Julie Popovich, 20, disappeared last Thursday after a night out with friends at Ledo's Bar on North High Street. No one has seen her since. For her family, organization is of the utmost importance.
More than 40 friends and family passed out thousands of pictures hoping someone who sees her face will call Crimestoppers with a tip. According to a police report, the night Popovich went missing, her friends saw her get into a car with someone they thought she knew, NBC 4 reported.
~~~~~~~~~~
Pregnant Woman Jones Still Missing
Like Latoyia Figueroa, the missing pregnant woman, Amanda Jones, was likely killed by her lovely former boyfriend.
Amanda Jones was scheduled to deliver her unborn child TODAY, 8/30/05.
The father of this baby is a fellow named Westfall but of course, he denies any knowledge of Jones' disappearance.
When this Grandmother Blogger was a young woman, there was no such thing as DNA tests. In fact, should a woman become pregnant, one of the popular ways for the real father of the child to get out from under any responsibility was for him to get a bunch of buddies to go to court and have them all swear they had sex with the unfortunate lady. Thus there was no way to determine the unborn child's paternity.
A more disturbing pattern in our society is the desperation of men who have fathered babies and KNOW that paternity can be easily established.
No more does a fellow father a child and get away from any obligation to same.
Except, sadly, if they murder the mother.
Scott Peterson saw it as a way out. Latoyia's ex-boyfriend too saw it as the way to avoid such obligations. Now this Westfall character, who has a new lady friend and no doubt wants to be unburdened of the baby Jones' was expecting, also might well have chosen the murder route.