True Crime:- Intriguing crimes across the nation, notable for the type of crime, the celebrity of the criminal, or both.
===============================
Taylor Behl-New Clues
Taylor Behl is a 17 year old coed who has been missing for over three weeks. In a recent true crime post, HERE I posted about one "person of interest" in this case.
This suspect, a Ben Fawley, is 38 years old, a creepy collector of child porn and has been hinted as being involved with Taylor in a "romantic" relationship.
Now there is another suspect, a Jesse Schultz, a skateboarder who became involved in this case along with Fawley. Allegedly Taylor went to Fawley's place to borrow a skateboard. Like Fawley, Schultz was arrested on another non-related crime, possession of cocaine.
Scent dogs allegedly led searchers from Taylor's car to the home of Schultz' Aunt. This "person of interest" allegedly failed two key questions on a lie detector test about Taylor Behl.
Now police are asking for information about a license plate that was stolen around the time of Taylor's disappearance.
So it would seem there might be TWO people involved in the disappearance of Taylor Behl. Fawley and Schultz do live close to each other and both potential suspects were arrested and taken into custody on unrelated charges.
It's possible that both of these men were involved in Taylor's disappearance. It's possible that Fawley, whose attorney was all over TV hinting at a romantic relationship between his client and Behl, is guilty only of directing his "girlfriend" Taylor to his friend's home so she could borrow a skateboard.
Fawley, by the way, was "kidnapped" on the same day Behl went missing. Although there is no information on who kidnapped him and the "crime" was not reported until many hours after it allegedly happened.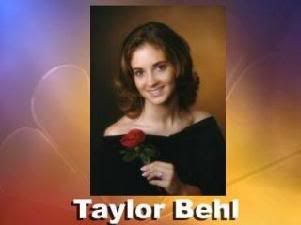 As for this skateboarder, there's been little reporting about him. That detail about Schultz failing the lie detector test has been widely reported. I heard it on Greta myself.
It would seem there's a lot of smoke surrounding Taylor's disappearance. By me, Fawley has gone to great lengths to cover for any eventuality that would have him connected to Behl around the time she disappeared.
Fawley does allege he took Behl to his friend's to borrow a skateboard and claims that he didn't see her after this. Fawley's friend does have the specter of the scent dogs and the failed lie detector test.
Yet for an "innocent" bystander, Fawley has gone to great lengths to obfuscate his relationship with Taylor and his whereabouts when she disappeared. Taylor's mother alleges that Richmond police are looking closely at "several" potential suspects.