Shiloh Rules is billed as a "Civil War satire," and when I read that description I thought, "OK here is one I HAVE to see." I couldn't imagine how someone could pull off writing a satire on something as serious as the Civil War. All that death and the issues that caused the conflict couldn't be easy to weave into a satire. Of course I was thinking of a more slapstick sort of satire like when Chevy Chase used to play Gerald Ford on SNL but it turned out that Shiloh Rules isn't that type of satire.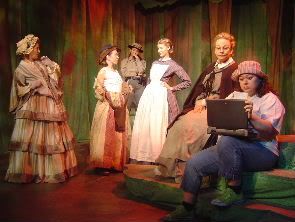 What it turned out to be was a very tastefuly written play in which Doris Baizley very cleverly creates a sort of conflux in time wherein 1862 meets 2006 on and around the battlefield at Shiloh. In the play, the past is represented by four of the actresses playing Civil War re-enactors, two from the North and two from the South. Let's just say they are very dedicated to what they do. Their interactions with each other form the core of the story. Add in a frustrated Park Ranger and a traveling vendor of just about anything you might want, who has sort of made a career of following the re-enactors every summer and the result is often very funny. At the same time, there are more serious, thought-provoking themes just under the surface throughout the story and that makes it much more than just a comedy.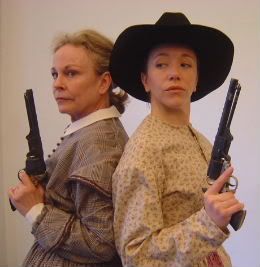 The passions and motivations of the Civil War are examined equally from the viewpoints of both sides in the conflict. The Park Ranger, who just happens to be a woman of color, adds something that is lacking in so much of what we see and learn about the Civil War, the views of a member of the race that the conflict was fought for!