Molière's Tartuffe is not one of those classic plays that need a lot of exegesis for the benefit of contemporary audiences. Though it dates from the 1660s, its vivid characters, uproarious humor, and theme of hypocrisy and scamming remain thoroughly understandable across the centuries. Nevertheless, many adaptations and "modernizations" that go beyond mere translation have been created and produced for English-speaking audiences, some in prose, some in rhyming verse like the original French. Richard Wilbur, Christopher Hampton, and many others have tried their hands.
Jeff Cohen's new rhyming-verse version is set in America during the Great Depression. His program notes relate this choice to the present economic crisis and in particular the breathtakingly audacious confidence men, like Bernie Madoff, who've had their part in it. I'd argue that Tartuffe's scheming is more akin to a different type of confidence game, that of the televangelists. Either way, though, the game is to separate a gull from his money (and/or position), not necessarily by lying to him, but always by taking advantage of one of his innate character traits, whether greed, insecurity, or something else.
Either way, too, Tartuffe is a play for our time, wherever and whenever one sets it, and Mr. Cohen understands this. His verse is primarily conversational, but it is elevated where it needs to be (as in some of Tartuffe's flowery outbursts,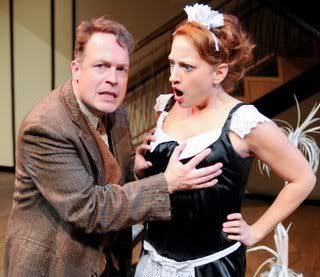 and the speeches of the prim, moralizing Cléante, mincingly portrayed by Brian Linden, who was so wickedly foppish in The Country Wife two years ago) — elevated, however, not into self-conscious poetics, but into the tones and rhythms of high comedy, especially American comedy, the line that runs from vaudeville through the great TV sitcoms of the 1950s.
To "fund" his vision of the play, Mr. Cohen, who also directed, has at hand an embarrassment of riches in the form of a superb cast. The production's publicity stresses the presence of Christina DeCicco, who plays Elmire, the sexy young wife of Orgon, Tartuffe's central victim. Ms. DeCicco is indeed excellent: agile, beautiful, and delightfully funny, she even gets to show off her singing voice in one hilarious moment (she played Glinda in the national tour of Wicked and it's no wonder).
But she is matched by the two male leads, Keith Buterbaugh as Orgon and the rubber-faced Tom Ford in the title role, and by Deanna Henson as the fiery maid Dorine, who is actually the household glue. Ms. Henson's command of the speedy verbosity required of her by Mr. Cohen's gushing script and rapid pacing is most impressive. Mr. Ford's Tartuffe is truly demonic — he's the very model of duplicity, utterly qualm-free about his plot to take control of his mark's fortunes, and equally bald-faced in his lust for Elmire even as he gleefully looks forward to marrying Orgon's lisping daughter Marianne.