The swirl of a new fashion season makes its way down the runway. The beautiful models, so enhanced by the artfully designed dress or gown, by the sensuous sway of the well-appointed evening wrap or the gathering of motion in abrupt color and surprising embroidery, what the poet Robert Herrick is describing when he writes "Next, when I cast mine eyes and see/That brave vibration each way free. . ." are testament to what fashion can do. But there is one thing that clutters it up.
Fine fashion is a passing moment that has much of fine art in it. It is glamor and thoughtfulness, sensuality and spectacle, soul and body. But there is a detail, clearly intended to enhance the beauties of the clothing that a designer has brought to fruition, which instead almost ruins it. This detail intends to define fashion itself. It is supposed to provide the movement in the cloth that an audience so loves. Hopefully, it is the engine by which the very concept of an article of clothing is expressed. It appears to think, this detail does, that it is the epitome of womanly confidence, intensity and purpose, all dressed up so beautifully.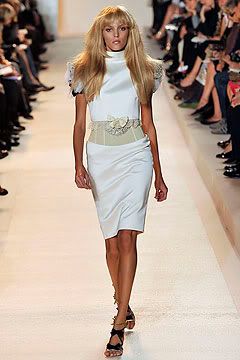 It's that walk that you see as models negotiate the runway. Pigeon-toed, one foot placed at an exaggerated inward angle to the other, the floor engaged by the fast-arriving shoe as though the floor were an underling being punished, this walk is de rigueur for models at any major show of new designer fashion.
Examples of it abound. When I see it, I can almost hear it... that is, the internal rustling and clang of the model's vertebrae. Ankles were not intended to be so misshapen and club-like. The way the foot comes so abruptly downward to the floor, like the hooves of a good Texas cutting horse initiating a rapid change of direction, causes the opposite of sensuous movement. I wonder, when I see it, what is happening to the poor model's knees as the clash of her tendons and the collision of her bones wreak what surely must be damage. Is the frozen look on her face — also required these days on the runway — frozen because she is attempting to hide pain? Why is she so unhappy? Watching it, I wince with every step, out of sympathy for this woman and what she is expected to do with this walk.