Film director James Cameron made a pretty good movie when he filmed Titanic. He even recreated the interior of that great and tragic ship down to the last authentic detail, giving the movie an eerie authenticity. But even the best of Hollywood craftsmanship and the magic of digital imagery could not fool us into believing that we were watching actual events taking place on the real Titanic. Even the guy falling onto the ship's propeller was a fake. It was all an illusion of reality — nothing more than an expensive and incredibly profitable piece of historical fiction.
Now, James Cameron is trying once again to recreate another time and place for us on film. This time, however, Cameron is not only trying to resurrect that same eerie authenticity but he is trying to really fool us into believing that the fictional and illusory magic of cinematic imagination is more real than the reality it attempts to recreate!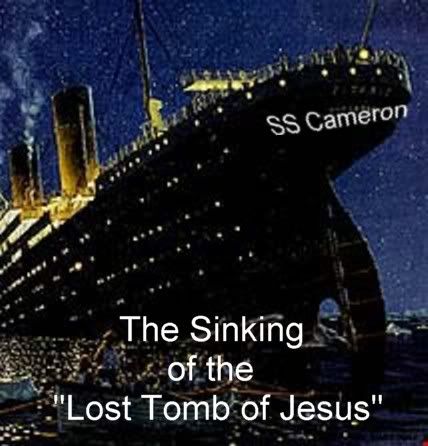 Cameron's latest project, titled The Lost Tomb of Jesus, is an attempt to demonstrate and prove that some ossuaries (bone boxes) found over 25 years ago in a tomb outside of Jerusalem contained the remains of Jesus, his mother, Mary, his wife, Mary Magdalene, their son, Judah, and the disciple Matthew.
The film's producers have concocted a statistical theory of "coincidence" that they say effectively validates their claims beyond a reasonable doubt.
Unfortunately for Cameron (and the Discovery Channel that is planning to air the film) their hyped-up claims have been torpedoed by the top archaeologists in Israel, including the man who did the original excavation back in 1980.
William Dever, who the Washington Post describes as one "who has been excavating ancient sites in Israel for 50 years and is widely considered the dean of biblical archaeology among U.S. scholars" has responded to Cameron by saying,


"I'm not a Christian. I'm not a believer. I don't have a dog in this fight ... I've known about these ossuaries for many years and so have many other archaeologists, and none of us thought it was much of a story, because these are rather common Jewish names from that period," he said. "It's a publicity stunt, and it will make these guys very rich, and it will upset millions of innocent people because they don't know enough to separate fact from fiction.
The Washington Post added that


Similar assessments came yesterday from two Israeli scholars, Amos Kloner, who originally excavated the tomb, and Joe Zias, former curator of archaeology at the Israeli Antiquities Authority. Kloner told the Jerusalem Post that the documentary is "nonsense." Zias described it in an e-mail to The Washington Post as a "hyped up film which is intellectually and scientifically dishonest."
The Lost Tomb of Jesus comes in the wake of such pseudo-historical projects as The Da Vinci Code, The Gospel of Judas, and The Secret Lives of Jesus. I can only conclude that Cameron (in the tradition of P.T. Barnum) seems to be betting that people are gullible enough to believe anything — especially something that, in this case, appears to undermine the legitimacy of the world's largest and most historically researched and validated religious faith.