I would say San Jose-based comic book publisher SLG Publishing has picked the right time of year to release their first issue of The Haunted Mansion comic book series (not yet available from Amazon). The 32 page black & white comic, based on the classic Disney attraction and not on the motion picture, tells the story of the 999 happy haunts who inhabit the Mansion and offers a combination of funny, spooky and scary looks at the world's favorite Haunted House.
The Haunted Mansion #1 features work by noted comic book creators including Roman Dirge (creator of Lenore), Black Olive, D.W. Frydendall and Jon "Bean" Hastings.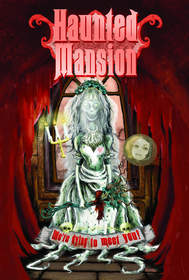 To celebrate the release, Meltdown Comics & collectibles in L.A. will be hosting a gallery showing of artwork from the series, including concept art developed for the comic and pieces from unreleased issues of the comic book. The show runs the entire month of October and will end with a special closing night reception on Saturday, October 29th. In attendance at the reception will be artists Black Olive, D.W. Frydendall and cover artist Roman Dirge.
Burbank horror shop Dark Delicacies will also host a pre-release signing on Saturday October 22nd, with Black Olive and D.W. Frydendall on hand.
I'm glad to see another try at original material derived from the classic ride. I liked the Eddie Murphy movie pretty well as a film entertainment, but it did little to evoke the jaunty, spooky, almost delirious feel of the ride itself, the thought of which still gives me Halloweeny tingles.
When I was a kid growing up in Southern California, there was nothing much more exciting than going to Disneyland, especially because we went each year on the annual TRW corporate night: no tickets for rides, no long lines, no riffraff. It was great, and there is something special about Disneyland at night, too: the mystery is more complete, the illusion of a self-contained world of joy and excitement even more effective.