That turned out to be so.
So when we heard that Nora had subsequently asked Gustavo and Giselle Anne to participate in Nora's Tango Week, a celebration of tango that was in its tenth edition this year, we knew we had to go there too. Now a San Francisco institution, Nora's Tango Week has long been the standard by which such festivals in the United States are measured. She was related by marriage to the famous Dinzel family of tangueros, and so is connected in a very direct way to the scene in Buenos Aires. She personally knows everyone who's anyone in tango in Buenos Aires, which effectively means that she's privy to the highest quality of dancer in the world.
A class from Gustavo and Giselle Anne begins simply enough. He is not a tall man, in his forties with very dark hair, who dresses for the classes simply in a pair of slacks, a sport shirt and shoes. Seeing him walk across the street, you would not suspect that you were watching a volcanic arbiter of great dance and a noted historian of the genre.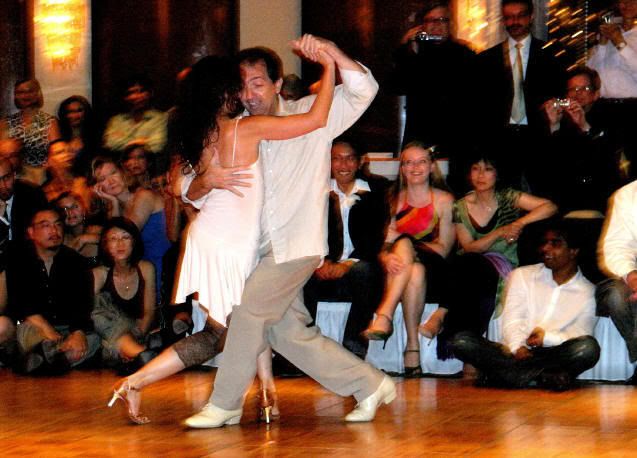 Gustavo has been teaching worldwide for many years. Asked in a 2004 interview in the Argentine publication Pagina 12 why so many people outside of Argentina wanted to study tango, he said "It's a dance that offers you a number of answers to the problems of modern life, because it occasions a solution for easing loneliness — a theme that in Europe has become so important — and because it's a guide to communication that goes far beyond language and culture. Besides that, it allows the person to liberate himself, at least for a moment, from the pressure that The State can exercise over him or her, and it's also a kind of game in which the roles of the couple can be rediscovered once again."
He's done a few turns in the movies as well, most famously as one of Sally Potter's partners in her film The Tango Lesson.
A 1999 article in El Clarín, one of the two major Buenos Aires dailies, laid out succinctly Gustavo's importance to the development of contemporary tango. Talking about the innovative styles of dance that were coming at the time from the Buenos Aires neighborhood Villa Urquiza and from the Club Almagro, the article stated, "You could say that three stylistic tendencies contend for supremacy (in Buenos Aires), Urquiza's style, Almagro's style and Naveira's style."