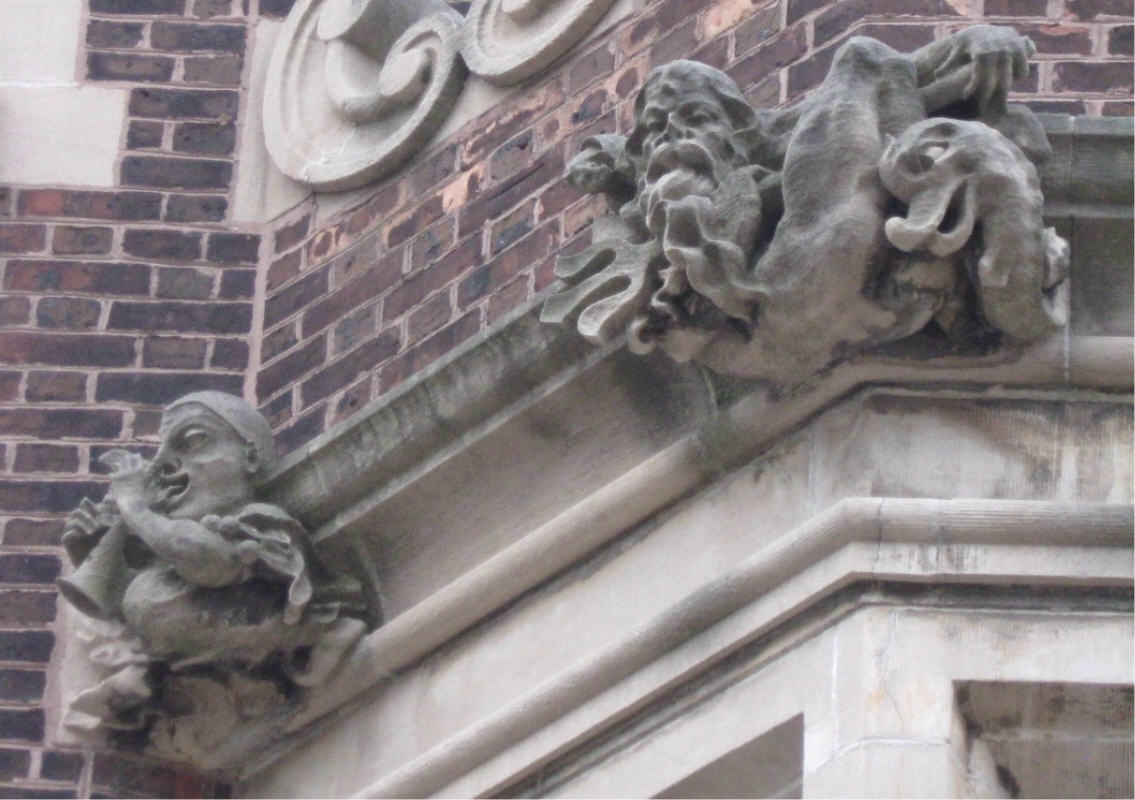 On our recent college tour one of the most interesting places we stopped was the University of Pennsylvania. It's a campus steeped in history, and I expected to see old buildings and hear a lot about Benjamin Franklin. What I didn't expect was to see one of the most remarkable selections of gargoyles I've seen outside of the Gothic cathedrals of England, and in a state of preservation which is unequaled among the monuments of the Old World because these are so relatively new.
The largest number of these gargoyles can be found on Penn's Quadrangle, a huge dormitory which is such a bizarre architectural anomaly that it's worthy of a few comments in its own right. The Quadrangle was built in the early 1900s, but for reasons I can't begin to fathom, it's an exaggerated recreation of the Tudor-period architectural style most commonly associated with Hampton Court Palace. It combines a basic facade of red brick with decorative elements carved in soft limestone, including a set of over 150 gargoyles on every topic imaginable.
Hampton Court's gargoyles are mostly common mythological creatures, but the Quadrangle features a much greater variety, covering college life, academic disciplines, various crafts and trades, and mythology ranging from the whimsical to the grim and foreboding, including several Danse Macabre themes, angels of death, and paganistic foliated heads. Plus there are mermaids, football players, goblins, baseball players, centaurs, and professors. It's a mad hodgepodge which takes hours and a sharp eye to fully appreciate. I wonder if the students living in the dorms in the Quadrangle take them for granted or realize what a marvel they and the building itself are.