I am no conspiracy theorist, folks, but even I have to wonder about the circumstances surrounding the birth and very early life of Suri Cruise, now almost three-months-old.
Not only have parents Tom Cruise and Katie Holmes kept her hidden her from view – which is just odd, what's the point of having a baby if you aren't going to show perfect strangers her little Festeresque countenance? – but oddities regarding her birth records are puzzling as well.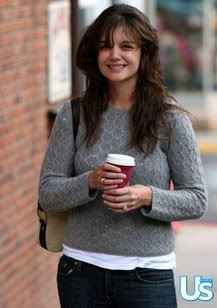 The latest intelligence to emerge on the missing Cruiseling is a three-page US magazine spread featuring a pic of Katie sipping coffee with a friend while vacationing in Telluride, Colorado. When asked about Suri by the US photogs, Katie responded cheerfully, "Suri's doing great. She's back at the house."
Tom was nowhere to be seen, but there were reports from locals that a baby was spotted and one clerk at a natural foods store reportedly said the baby (presumed to be Suri) was "funny looking."
Not sure if "funny looking" is meant to mean the baby was "comical" or a bit "off," but considering virtually all newborns are "funny looking," we can only guess at the implications for little Suri.
As the mother of two children, I am inclined to not entertain other people's idea of what's cute in a baby. All babies are beautiful to their parents and sometimes they are the only ones who think this; but
all questionable "funny" business aside, strange goings-on with Suri's birth certificate are a curiosity.
Celebrity sleuths at TMZ did some digging and have discovered some odd irregularities regarding the child's birth records.
Suri was born on April 18, but athough St. John's Hospital has a policy of filing birth certificates within 10 days of birth, the certificate was not filed until May 8, 20 days later.