It would be simplistic and unimaginative to call Paris Hilton a publicity whore. She really is so much more. And through her own weird and bizarre genius, she maintains a stranglehold on our collective psyche.
Most adults over the age of 30 just don't understand her, nor the power she wields over celebrity culture. But make no mistake: her demigod status is a collaborative effort driven by her, her handlers, the media and the public.

Surprise! Now there is yet another lastest tidal wave of evidence illustrating the depths of stupidity, depravity, life of excess, and an ineffable lack of inhibition that is Paris Hilton: this time, in the guise of a website called ParisExposed.com.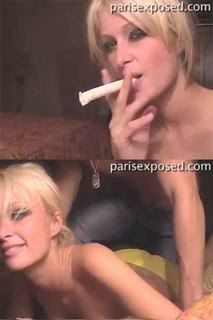 The story here isn't the contents of the site or even the endless amateur footage of Paris Hilton being Paris Hilton. Most of America saw quite enough of the "private Paris" with her first sex video with ex-boyfriend Rick Solomon creatively titled, One Night In Paris. Even if you haven't seen the video, which certainly most of us haven't, no one can deny the "scandal" of that tape and the media frenzy surrounding it made Paris Hilton a household name. And she wouldn't have it any other way.
No, the real story here is how and why the purveyors of the ParisExposed.com site came to obtain these very personal items of Ms. Hilton's.
The men behind the site are Bardia Persa and David Hans Schmitt (the sleazebag who peddled One Night In Paris), and the contents in questions are from a 6,000 square foot storage unit containing Paris Hilton's personal items of a varied and bizarre nature. The manner in which these "gentlemen" obtained Hilton's belongings was quite startlingly easy and cheap (insert Paris joke); so easy in fact, it would seem as though they met the kind of resistance one meets when they are being aided by the victim themselves.