Talk show and media mogul Oprah Winfrey, typically happy to shill her brand of self-help advice to armies of "girlfriends" seeking her Svengali-like influence, has sought to quash rumors that she is an active lesbian by making a statement on the subject in the August edition of O, The Oprah Magazine.
"I understand why people think we're gay," Winfrey says. "There isn't a definition in our culture for this kind of bond between women. So I get why people have to label it – how can you be this close without it being sexual?"
The bond she refers to is that between herself and Gayle King, the editor-at-large for Oprah's O, The Oprah Magazine. King, a divorced mother of two, was a news anchor for many years before she took her position at O, and the two women have been friends for 30+ years.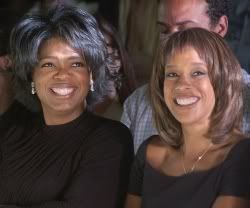 In the same article, King also goes on record about the two women's extremely close relationship. "The truth is, if we were gay, we would tell you, because there's nothing wrong with being gay."
My thought on this is if you have to issue a written statement in your own magazine to quash rumors about your sexual orientation, there might be a good reason the rumor is circulating.
Big Whoopi Goldberg – you're gay, bi, or possibly asexual. Who cares? Most people who really aren't gay would ignore such rumors, secure in their knowledge of the truth, but Oprah – always with the James Frey spin job – doesn't want to alienate her suburban housewife minions.

In the spirit of all this openness, I will admit I don't like Oprah. I find her disingenuous, arrogant, self-centered, and a raging hypocrite. I am in the minority. Perfectly sane and reasonable people seem to accept Oprah and her unrelenting advice on how to dress, eat, decorate, think, believe – live.
Oprah attempts to project a woman-of-the-people persona, and to an overwhelming degree, she has succeeded. But, there are those who don't buy it – and I count myself among that small, elite minority.