When you lead a busy and harried lifestyle like starlet Lindsay Lohan, you need an effective, low-maintenance skin care regimen. Nothing says acne and skin blemishes like late night Jäger shots and coke snorting. Luckily for parent company Guthy-Renker, ProActiv has just the solution to fix what ails a Hollywood hottie, and it scored another big name star to hawk its skincare wares to the world.
Receiving a sweet $2 million dollar deal to be the new face for the popular three-step acne treatment, Lindsay Lohan is the perfect candidate for the blemish-free world of ProActiv. Teenagers can relate to her as well as the hormonally-challenged adults who are still plagued by grotesque bouts of skin flare-ups.
Others gracing the ProActiv lineup are Jessica Simpson, PDiddy (Sean "Puffy") Combs, Elle McPherson, Alicia Keyes, Brooke Shields, and Kelly Clarkson. Damn, that's a lot of big-name acne.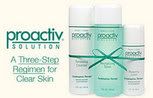 Speaking of scoring, also haunting the "firecrotch" rumor mills is a "blind item" story by the funny-as-a-three-dollar bill gossip queen Ted Casablanca.
In this tale of debauchery, the heroine of our "blind item" is aptly named "Morgan Mayhem" (I bet Ted laughed long and hard at his cleverness on that one) and Morgan is starring in her own dope-show.
"A swanky Hollywood hotel, known for its crazy parties and late-night flings," Casablanca writes. "A very nearly has-been actor is escorting two lovely ladies to a friend's room upstairs. Said gray-haired type accidentally happens into the wrong suite at a very inopportune time. Morgan is alone in the room, 'cept for her coke stash and bodyguards. And one particularly helpful guard is choppin' up lines for Miz M. Now, that's stellar service!