Nick and Jessica became stars after their reality TV series on MTV, The Newlyweds, catapulted the couple to fame - a fame that they might not otherwise have known. The intrusiveness of the show and the world into the fledgling marriage, endless tabloid speculation, and ultimately, the puppeteering of father/manager Joe Simpson clearly contributed to the disintegration of the three-year marriage. Joe Simpson, mastermind of The Newlyweds, is also owner and founder of Papa Joe records, securely nestled under the Geffen label.
Joe Simpson takes the role of stage mom to a whole new level. Managing both daughters, Jessica and Ashlee's, singing/media careers seems to have given the former Baptist youth minister a G*d complex of a different kind. Manically spinning the media to conform to his will, Simpson has managed to create, destroy and resurrect both daughters' careers with the skill of one who has sold his soul to the devil.
After successfully pitching Jessica and Nick's love and young marriage to execs at MTV, Joe was emboldened to pimp Ashlee's burgeoning music career into another reality show, The Ashlee Simpson Show. Fans got to watch Ashlee's phoenix impression as she crashed, burned, then miraculously arose from the ashes of a lip-sync scandal stemming from her appearance on SNL. The 360 degree transformation is legendary, and further proves her father's alliance with hell. Despite a popular site petitioning for her removal from the music scene, and ostensibly the universe, she has reemerged with a successful follow up album.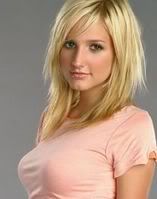 According to Billboard, "Simpson staved off a slew of Billboard 200 chart veterans...notching her second chart-topper with "I Am Me." With sales of 220,000 copies in the U.S... it duplicates the chart-topping success of her 2004 debut, "Autobiography" ... in just six weeks, the new album's first single, "Boyfriend," is a top 25 track on the Billboard Hot 100."
Coincidentally, the album was released at approximately the same time leaks about the Nick/Jessica split were reported in the tabloids. That Joe is a savvy marketing genius - and probably a devil worshipper.