I learned how to walk in 1994. I was well into my adulthood at the time. I'd been strolling around for years before, in the way one usually strolls, but on that day in 1994, I was told I didn't really know how to walk.
"What do you mean?" I asked Nora. She stepped toward one of the chairs at the edge of the practice room, before the large mirror. Traffic noise from San Francisco's Geary Street poured in the open windows. She sat down and crossed her legs. I felt vulnerable before her, a laughable figure wet with sweat.
I could not see how I would ever achieve the sensuality in this Argentine tango dance that I had seen others achieve. It was completely out of the question; so remote a possibility, it seemed to have disappeared even before it had appeared, especially in view of the fact that, now, I did not know how to walk.
"Poeta," Nora said. She began speaking English. "You walk like the English." I turned away, gesturing into the air.
"Wait!" she said. "Don't get me wrong. I have great respect for the English." She placed an index finger below her right eye and looked up at me with comic sincerity. This conversation was taking place twelve years or so after the Malvinas War. "They nice people."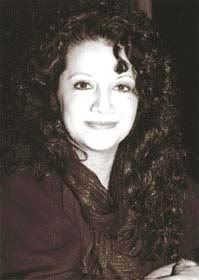 She stood and stepped out to the middle of the practice room. She positioned herself with her feet apart, her shoulders slightly hunched, her head hanging a bit forward. Her black hair surrounded her head and hung down from it like ringlets of obsidian. (Nora Dinzelbacher in photo at left)
"And this is how they walk," she said, reverting to Spanish. Nora took several steps, her feet a few inches apart from each other as she moved. There was little fluidity in her walk. She plodded like the Tin Woodsman stiff with rust. "You see? The Industrial Revolution, yes? England! And that queen of theirs. Yes?"
"Nora," I whispered, amused by her characterization of my gait.
"But now, when you walk like this…" She suddenly grew liquid, and she sauntered forward, her knees and ankles lightly brushing each other. There was something about her feet, the way that, as one passed the other in mid-step, they appeared like two doves caressing each other in flight. Her shoulders moved as sensuously, her arms held up slightly, but sinuously, so that her erect head, that looked aside just now with a slight and disdainful smile on the lips so that she appeared to be heading for an unusually pleasure-filled union of some kind — just where, no one knew — some sensual bower, some assignation.