The exhibition Women Impressionists currently showing at the Legion of Honor Museum in San Francisco is really four exhibitions. Work by Mary Cassatt, Berthe Morisot, Eva Gonzalès and Marie Braquemond is shown in such abundance that the viewer has a real opportunity to see what consistently fine artists these women really are. Organized by the Schirn Kunsthalle Frankfurt's director Max Hollein and John E. Buchanan, Jr., director of The Fine Arts Museums of San Francisco, the show offers the most comprehensive view of four very important Impressionist painters ever mounted.
Mary Cassatt is justifiably famous, one of the greatest of all the Impressionists. Born in Pittsburgh, Pennsylvania in 1844, Cassatt studied at the Pennsylvania Academy of Fine Arts and, in 1865, moved to Paris where she studied with the French painters Charles Chaplin and Jean Léon Gérôme. Because of her father's success as an industrialist, Cassatt was a woman of some means, but she always prided herself on working at jobs that would bring in money of her own, however little. "The dignity of work," she wrote in a letter to her sister, "enables me to earn my living, five francs a day and self-respect."
Among many other things, Cassatt painted women and their children, which is one of the glories of her work. Her children are not always happy little cherubs, though, and her mothers and nannies are not always nurturing and serene. Indeed, the range of emotions that can exist between mother and child are always explored carefully by Cassatt, and this sophistication and honesty make her paintings of life at home often compellingly complicated. The little girl in a straw hat, frowning, is seriously unhappy, yet Cassatt's view of her renders faithfully the humor of her anger. The little boy awakening from a nap on a hot afternoon is grumpy and a little condemning of Jenny, his mother. A young girl holding a blade of grass to her lips appears distracted, dismissive of her surroundings, and bored. All of these subjects are painted with verve, adventurous freedom in the brushwork, and clear knowledge of what these subjects are really feeling.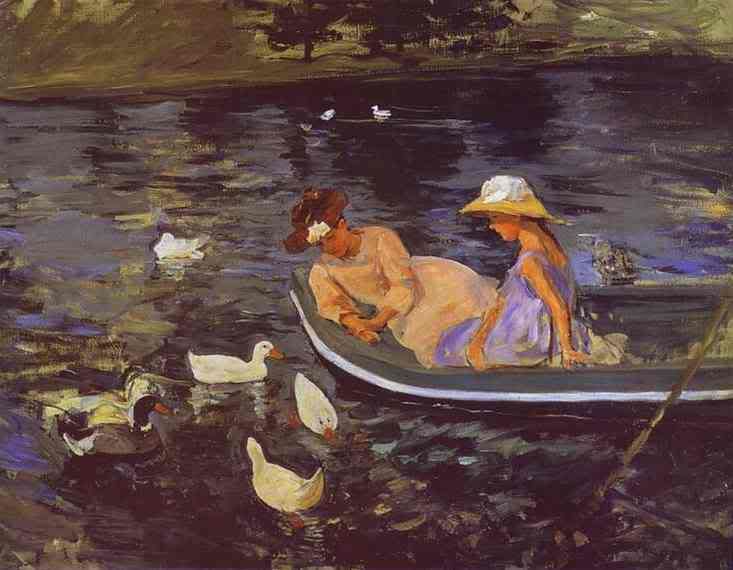 One painting in this show, "Summertime" from 1894, shows two young women in a rowboat watching some ducks on a pond. The setting is sunny, the ducks playful, the women light and colorful, and the water is threateningly dark, even soupy. One may wish to relax in this setting, enjoying the light on a pretty day, but I believe the water conveys the emotional difficulties that may await these two lovely women some day.