Frida Kahlo has achieved such a level of iconic importance that most people who view her work have seen it only in reproductions: photos, posters, book illustrations, greeting cards, etc. As with all artists, though, seeing her work in person is really essential to appreciating it.
Frida's subject material – the terrible bus accident when she was a girl, now so famous an event; the subsequent multiple operations; the corset-like braces; the bleeding, the miscarriages, the pain, the personal suffering, the emotional devastation, her marriages to Diego Rivera – is all so well-known and interesting that the viewer can be forgiven for not looking beyond it. But it's worth asking, was she really a good artist? Was she the great artist that so many congratulate her for being, even greater than her remarkable husband Diego?
To help answer those questions, you should go to the current exhibition of Frida's work at the San Francisco Museum of Modern Art, on view until September 28. It would also be helpful to read Hayden Herrera's wonderful book about Frida, one of the finest biographies I have ever read. Indeed it is one of the finest books I have ever read.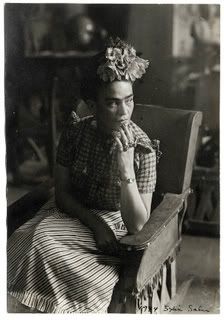 There are some artists and writers whose lives are almost as compelling as their work. Ernest Hemingway comes to mind, as always. Pablo Picasso. Antoine de Saint-Exupery. Indeed there are those whose lives are even more compelling than their work, as with Gertrude Stein - in her case, far more compelling. Frida's life contains so much adventuresome brio, so much terrible pain and so profound a mix of lurching emotions, great kindness, and deeply-felt love, that you could hardly find as compelling a character in the pages of any fiction.
Ms. Herrera's book exploits all these things and does so with so much good writing that the book itself is really a page-turner. This is not the usual in serious biographies. But Herrera's talent as a writer allows her to tell Frida's story with all the tenderness and verve it deserves. It is a very fine book that presents a delicately nuanced, painful, often humorous portrait of a very considerable person and artist.