Through sheer coincidence, I ended up at an art gallery in Bangkok while looking for something else. Carpediem gallery is on the busy Ploenchit Road that has also seen a facelift due to the infrastructure improvement in Bangkok. As I entered the art gallery, I could not help noticing a Buddha image painted in black, with a distant light making the entire mood alive and personal. I was told that this painting was a creation of Pearapong Khireewong, a thirtysomething artist from southern Thailand.
Noticing my interest, the gallery owner led me to the artist's other works, which were remnants of an exhibition entitled "Silent Wish."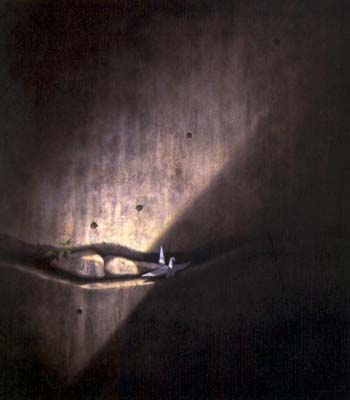 I was absolutely stunned by the originality of the works and the range of emotions they evoked. Pearapong's exhibition was inspired by southern Thailand's politics, which have bedeviled Thai society and undermined the progress that the country has achieved in a short span of time. The paintings captured the pathos of the bullets that were sprayed on the local population, and later the peace offensive by the now deposed Prime Minister Thaksin.
The painting above is entitled Bullet Holes in Narathiwat (Acrylic on canvas, 130 x 150 cm). This work has an eerie mood, yet the light - almost poetic - makes a powerful statement. The lone paper bird - a handout from the government - holds a precarious position, almost as if it were trying to break a stone wall.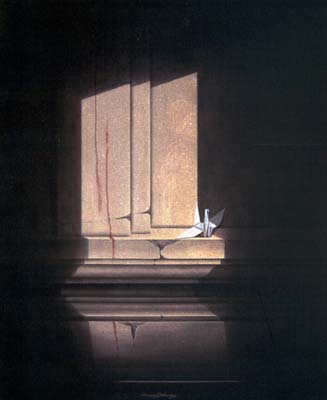 Another outstanding work is entitled Monument of the Selfless Heroes (Acrylic on canvas, 120 x 150 cm - see the image on the right). Here the light conveys hope and tidings of renewal. As noted above, the paper birds were used to calm the restive provinces. Pearapong puts these birds in touch with the eternally peaceful Buddha, and in several images they appear whispering in his ears. Regarding the birds, this news item provides some detail: