July 23rd in Charlotte, North Carolina was my fourth time attending the Van's Warped Tour. It has always been one of my favorite summer events. It is a spectacular chance to see dozens of live rock and alternative bands all in one place. This year's line-up in Charlotte (it is slightly different at each venue and region of the country) boasted such varied acts as Circa Survive, Underoath, Red Jumpsuit Apparatus, The Vincent Black Shadow, and heavy punk rockers Bad Religion.
Every time that I attend I am endlessly impressed with the planning and precision that must take place. Hundreds of vans and trucks roll into town and a flurry of set up ensues (think 6+ stages and various booths of every incarnation). The show runs like clockwork with a band hitting each stage alternately for a thirty minute set. As soon as one band finishes, another band starts on the next stage over. By the time they are done playing, the first stage is set up for a new group and on they play from 11am until 9pm. It is all a bit mind boggling, completely well run, and what it means for the music lover is that at any given moment in that 10 hour period, you can find a band playing live on one of the many stages. Whew. I am exhausted just thinking about it.
This year I got the chance to see Warped Tour through new eyes. I took my 12-year-old niece and 15-year-old nephew along for the ride and they were, needless to say, a bit overwhelmed by the availability and variety of music to be had. There is hardcore, metal-core, emo, ska, punk, pop-punk, reggae, and… oh, forget it. There is a ton of music, okay? What they loved the most, though, is what I have always said is the greatest draw of the Warped Tour. It gives you the opportunity to experience music you have never heard before… in completely tolerable doses. If you love a band, great. Go buy their album and a t-shirt. If you don't, they are done playing in thirty minutes. If you get to your local venue on time and catch a band every thirty minutes or so, figure in some bathroom breaks and a chance to eat, you could see 25+ bands. Not bad for the $22 admission cost.
The first band that I caught in Charlotte was Bless the Fall. They are a fairly young group and while I like their Saosin-esqe upbeat rock, they did not seem suited to such an open venue. They seemed lost amidst such a large stage, swarming crowd, and open-air acoustics. They would be much better suited to a smaller venue.
Next on my schedule for the day was Big D and the Kids Table. There have not been a lot of ska bands out in the past few years, save Catch 22, who I really love, but this is a band with some serious ska chops. Their live show did not disappoint. Their horn section is incredibly true live, their lead singer dynamic, and the crowd absolutely loved them.
And then, sigh, New Found Glory. I have been a long time fan of this band and they have never disappointed live. This set was no exception with little talk and a whole lot of high energy pop-punk from a band who set the rules for the genre. I would have loved more tracks off of their eponymous album, but the best treat was a teaser from their upcoming From the Screen to Your Stereo Part 2, a cover of the pop hit "Kiss Me." The only complaint here is that they played so early in the day. They will forever be headliners in my heart.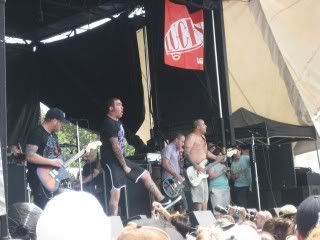 Buffalo, NY rockers Cute is What We Aim For have steadily been amassing a cult following and their fans were out in force. Their 1:30pm set was packed and they played a steady stream of their snarky, tongue-in-cheek fun pop hits. Lead singer Shaant Hacikyan is completely engaging live.
One of the bands I was most looking forward to seeing live for the first time was the power-pop band All Time Low. I think their song "Coffeeshop Soundtrack" is a pop-rock masterpiece and their album is so full of energy I find is addictive. Live, though, I was quite disappointed. The energy from the album is lost and, as such, this particular fan lost interest in the live show after just a few songs.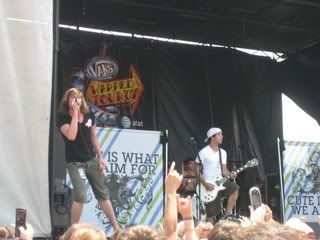 Two of the highlights for me were The Starting Line and Paramore. These are two bands I have long been a fan of. The Starting Line is back with a new album and, seemingly, some new-found confidence. They owned the stage, despite a lackluster crowd, and the first single, "Island," from their new album was made to be played live.
Paramore, the Tennesse based quartet of pop-rock goodness, has the good fortune to be fronted by one of the most powerful female singers of the 20-something generation. Hayley Williams is teeny-tiny but has a mega-large voice. I was blown away to hear that her voice sounds equally as amazing live as it does on the band's most recent album, Riot! She is a force to be reckoned with and I highly recommend seeing this band live at any chance you get.
The award for the most surprising band of the day, though, goes to regee/punk fusion hipsters Pepper from that beautiful state of Hawaii. I had never heard of them before and was drawn to their show from a merchandise booth simply by the power of their sound. It is cool, mellow, and very island inspired. Don't be fooled though. These boys can rock their jams with blistering guitar riffs and some killer drum solos. Definitely one of the most unique acts of the tour this year.
On the downside, Charlotte's Verizon Wireless Amphitheater dropped the ball, as usual. By 3 pm they had run out of all food except popcorn and nachos and had sold all of their cold water and were left only with hot bottles that had been in a storeroom somewhere. Considering the heat coming off of the asphalt was over 95 degrees, not a good situation.
All said, though, this was one of the best Van's Warped Tours I have been too. I highly recommend checking out any of the upcoming dates that might be in your area. The tour is currently making its way through the Northeast, up into Canada, back down through Kansas and Idaho, and then they round things out with several dates in California. And while you are there, don't forget to help out your favorite band by buying some merchandise. Most of the artists will reward you by hanging out in their booth all day to say "hey" and sign whatever your little heart desires.
Visit the Vans Warped Tour website for more information.