With their innovative sound, The Crimea have produced a better-than average-yet-still-missing-that-key-ingredient album, Tragedy Rocks. The title alone gives you an idea of the somewhat dark tone of the album. Mixing plenty of melancholy with emotional and prolific lyrics, you get the sense that frontman and songwriter Davey Macmanus' mind isn't always filled with flowers and sunshine.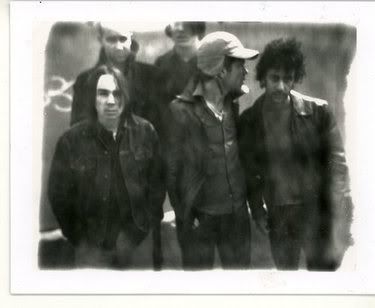 The London quintet's debut album, Tragedy Rocks features fourteen eclectic tracks, including the interesting tune "Lottery Winners On Acid".
The lyrics are the kind that make you wonder if you just heard them correctly. On the bittersweet "Girl Just Died", Macmanus sings "Want to see my happy side? Better tell me that my girl just died" while in the comical "Baby Boom" he, uh, croons, "You can call me Fred Flintsone, Tarzan King of the Jungle. I guess I was a little prehistoric, pumpkin, at your place this afternoon". Har har. Cute.
The album ends on a sad note. Depressing, even, with a tragically (and lyrically) beautiful song, "Someone's Crying". I kind of get the feeling that the thirteen previous tracks were all leading up to this final moment. A gut-wrenching scream of despair. It's damn good, despite what others have to say about it.
Lyrically speaking, this is a top album. Musically, I feel it's a bit awkward and has room to grow. Give these guys a few years and they'll be taking over the world.
Complete track listing:
Intro
White Russian Galaxy
Lottery Winners On Acid
Baby Boom
Losing My Hair
The Great Unknown
Here Comes The Suffering
Bad Vibrations
Opposite Ends
Howling At The Moon
Miserabilist Tango
Girl Just Died
Gazillions of Miniature Violins
Someone's Crying