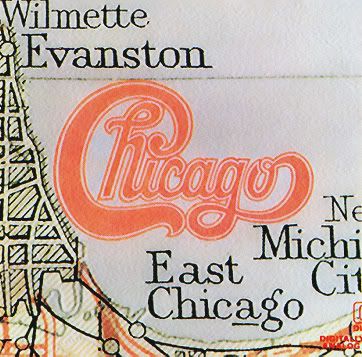 Most bands have experienced tragedy, sometimes great, at one point or another during their careers. But what befell Chicago not long after the release of their eleventh album seems particularly cruel.
Guitarist and vocalist Terry Kath was an avid gun collector and had been cleaning one of his guns at a friend's party on January 23, 1978. When someone expressed concern and asked Kath to put the gun away, he replied, "Not to worry, it's not loaded," aimed the gun at his head and pulled the trigger to prove it. Unfortunately, unbeknownst to Terry, the gun was loaded and he died almost instantly. It's amazing how often that great talents are robbed of their lives through the stupidest incidents.
Though stupid, it was incredibly tragic, and the rest of the boys in Chicago nearly hung it up as a result of their grief. So if one thing marks September 1977's Chicago XI as sublimely unique, it was because it was their last album, in a sense.
Chicago would not be the same without Terry Kath. When most people think of Chicago, they think of Peter Cetera as their leader. This is, of course, mostly to do with his vocals on "If You Leave Me Now." But Cetera did not really step up and become more prominent with Chicago until 1982. From the band's inception in 1967 to his death in 1978, it was Kath who was the main frontman and undisputed leader of the group. Without Kath, their sound and style never quite recovered.
Chicago XI is also the last album they would record with James William Guercio. Guercio had been with Chicago since the beginning and was practically their eighth member. Every time you heard a song of theirs on the radio, you could almost hear Guercio in the background, calling all the shots. Although it's funny to think of a band called Chicago recording in Colorado, that's where they recorded the bulk of their work. The 11th album was no exception. However, by '77, Guercio had become something of a control freak, trying to dictate the band from every direction imaginable. So, due to the fact that they could not bring themselves to go back to same studio they'd shared with Terry, plus the fact that they were fed up with Guercio, the band told their longtime manager/producer to screw himself and, as aforementioned, were never quite the same.
Although it is a very good album, Chicago XI is not very cohesive. There is less of a common thread running through the album than there had been on past efforts. This album is really just a collection of songs and nothing more. But the music, nevertheless, is top-notch. What also makes the album great is that everyone in the band contributed to the writing of it.
Chicago XI kicks off with Terry Kath's sadly wistful "Mississippi Delta City Blues." The band had performed this live since 1972, when it was first written, but did not think to record it until Chicago XI. In my opinion, it is an essential song for the album; it is impossible to imagine the LP without it. Although there is not one ounce of lead guitar on it, there is no need for it. The rhythm guitar is thick, funky, and just swings. Cetera puts in some excellent bass, and James Pankow and Lee Loughnane punctuate the song nicely with their horns.
Next up is an all-too-obvious attempt to recapture the success of "If You Leave Me Now." It's syrupy, gooey, was played to death on AM radio and ended up, rather unfairly, representing the album. I speak, of course, of "Baby, What A Big Surprise." It's a great song. In fact, when people first heard it, I'm sure it entranced them. But it got overplayed and — once again — painted Chicago out to be the type of group they never really were: pop balladeers, as opposed to gritty rock-jazz connoisseurs. Just as with "If You Leave Me Now," the band had reservations about "Baby, …", but, with Guercio's insistence, included it. It is also Cetera's only lead vocal on the LP.
Trombonist James Pankow's "Till the End of Time" follows and it is one strange number. It starts off sounding very much like a throwback to '50s bubblegum rock — fortunately, the band spares us any "do-wah"s — but, after the final chorus, turns very bluesy. Pankow wails, as does Kath's guitar. They make it work, but it still stands out as an oddity. But Cetera, Lamm, and Terry put in some marvellous background vocals and it is this harmonization which makes the song worth hearing. And Pankow's singing is nowhere near as bad as other critics have made it out to be.
Robert Lamm makes the first of three straight appearances on "Policeman." This song indicated that Lamm (and perhaps the rest of the band) were starting to outgrow their hippy idealism. Essentially, after so vigorously railing against the police on past Chicago albums, "Policeman" is Lamm's mea culpa, in which he paints a very sympathetic portrait of an aging policeman who "suffers because he sees all kinds of pain," "feeds the cat he lives with since his wife walked out the door," and who "in nine years will retire with a pension." Lush keyboard jazz chords, outstanding but subdued horns, and another good set of background vocals by Cetera make this one of the better songs.
Lamm's lush vocals return on the song that accurately represents Chicago XI much better than "Baby, …" did. "Take Me Back To Chicago," much like "Till the End of Time," starts out one way and ends completely differently, but it is a more cohesive song. The song was written for, but not by the band, and was written for a deceased friend of the band, and speaks of his desire to, in his afterlife, return to the Chicago of his youth. Chaka Khan makes a guest appearance on this song, turning in some gospel-like vocals during the song's final reprise. But, in retrospect, the song comes off sounding like something that could very well have been written for poor Terry Kath!
Side Two of the album kicks off with Lamm's second writing credit, the blisteringly sarcastic but very amusing "Vote For Me." After Bobby's funky church organ intro, and some uplifting horn work, Lamm implores us to give him a chance for the Presidential nomination. And what does he propose? He'll cut our taxes in half, give us trains that run from Waikiki to Delaware (the presence of the Pacific Ocean apparently won't be a problem!), make our cars run on beer, and institute solar power everywhere! Then, he admits, this is not something he can do himself and needs the help of every American. Yes, he's a winner, but guess what? He cannot do it without money and wants to see lots of checks in the mail! This song screams "1976" (even though it appeared in '77) because it was around the time that Ford and Carter really weren't distinguishing themselves from each other and both promised everything under the sun. I can tell Lamm wrote this one during the '76 election!
The grim "(Takin' it On) Uptown" follows — and grim it is. Chicago suddenly becomes a trio on this song: Robert, James, Walter, and Lee all stepped out for coffee, leaving only Terry, Peter, and drummer Danny Seraphine behind. And this song is all Terry: he puts in some fantastic blues guitar that sometimes borders on metal and, if you failed to miss it from his guitar work, his vocals indicate how frustrated and fed-up his song's character is. Terry growls his anguish. He doesn't deserve the degradation, can't put up with the aggravation, and is heading uptown on the #86. But why? The song is another point among several on the album where your skin crawls. Although I do not believe, along with the great majority of Kath/Chicago fans, that he deliberately killed himself, the song's references to suicide are prophetic nonetheless, regardless of whether it was unintentional or not.
Lee Loughnane's vocals serve as a relaxing comedown on "This Time," though Kath still puts in some blazing work during the song's break. The song is good, but is not particularly noteworthy — just a matter-of-fact song about a troubled relationship's chances of working out for the better.
The next three songs in a row are part of a larger package, the album's fin de siecle. This is a lot like the Chicago of old, where a common theme ran across several songs. "The Inner Struggles of a Man" is completely classical, written by the band, but not one note actually comes from them. It builds in crescendo and peaks at the point where "Prelude" begins. Terry sings about a woman he once knew over Lamm's quiet keyboard work. After some nice but eerie horns, Danny's "Little One" starts. Although Danny wrote the song for his daughters, Kath sings it. It is hard to say whether the song is happy or sad. Hopeful is probably the best word for it. But one is hard-pressed to listen to Kath singing, "Don't fear for the future, 'cause I will always be there," knowing he'd be dead only four months after he sang that. And the song ends on a poignant note, literally.
But I think the raw emotion packed into Chicago XI makes it, if not their best album, then certainly their most noteworthy. The band changed forever after its release, and it was the last we'd ever heard of the "old" Chicago. Though the band continues to tour and record — and though Robert Lamm, Walter Parazadier, Lee Loughnane, and James Pankow remain in its lineup — I don't expect to hear another effort like this one from them again. The band reached its peak with Chicago XI and it was a glorious end to the first stage of their career.
Powered by

Sidelines