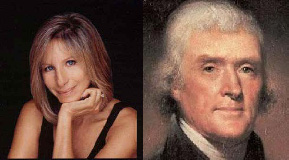 The Thomas Jefferson quote Barbra Streisand used for her November 8 statement regarding Bush's re-election first appeared on Democratic Underground by a poster claiming to be Elizabeth Edwards:
"A little patience, and we shall see the reign of witches pass over, their spells dissolve, and the people, recovering their true sight, restore their government to its true principles. It is true that in the meantime we are suffering deeply in spirit, and incurring the horrors of a war and long oppressions of enormous public debt. If the game runs sometimes against us at home we must have patience till luck turns, and then we shall have an opportunity of winning back the principles we have lost, for this is a game where principles are at stake."
The quote comes from a letter written by Jefferson to John Taylor following the passage of the Alien and Sedition Acts in 1798, a set of four laws passed by the Federalist-controlled Congress under the John Adams administration. The laws were designed to control the activities of foreigners in the U.S. during a time of impending war with France, but in effect, the Acts were used to restrict the growth of the Jefferson Democratic-Republicans, not to be confused with today's modern Republican party.
The Acts backfired. Only one alien was actually deported and only ten people were convicted of sedition.
Confusing a law enacted by a war-time Congress with a vote cast by a war-time electorate, Streisand has taken Jefferson's quote out of context. She is essentially accusing the GOP of electoral tyranny and in doing so, she is blinding herself to the reality that more and more Americans find the Democrats' left-wing politics repulsive.
This post first appeared on Reporterette.com
Powered by

Sidelines