Apropos to nothing – mostly because the book is a paperback that comes out in September and so has nothing to do with this week's list – but the best title I've come across lately is a Charlaine Harris novel: Must Love Hellhounds. Now I must fly you to the Moon and more summer fiction...
Magnificent Desolation: The Long Journey Home from the Moon by Buzz Aldrin, Ken Abraham
"No the Moon ain't romantic, it's intimidating as hell," Tom Waits once, um, crooned. Though the unsentimental and matter-of fact style of Buzz Aldrin may predominate the otherwise candid and involving memoir Magnificent Desolation: The Long Journey Home from the Moon, it really serves to mitigate the intimidating scientific aspects of the Moon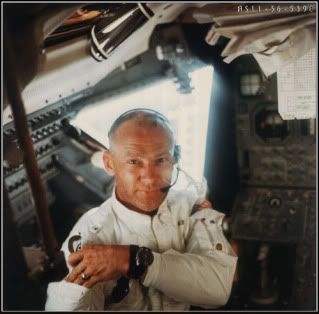 more than it celebrates the magic and the myth of the "magnificent desolation" - as Aldrin called it upon his exploration as the second man to walk on the Moon, minutes after Neil Armstrong. For Aldrin, though, life after the historic mission proved to be a rough landing. His desire to command the Air Force Academy was squelched when someone else was chosen, and, with such a glut of astronauts existing, he was unable to return to the Moon. Rudderless and rundown, a once ambitious, motivated man who had achieved his greatest ambition at the age of 39, Aldrin retired. But over the next decade depression and alcoholism had him in a trap, putting an end to his marriage and curbing his efforts to build a new career - Aldrin even found himself selling cars for a living when he wasn't drunkenly wrecking them. Aldrin stumbles when recovery doesn't completely eliminate life's hurdles or the debilitating depression that still occasionally overtakes him.
Redemption came when he finally embraced sobriety, won the love of his life, Lois, and today, closing in on 80, devoted himself to being an active public figure working to re-energize America's space program. It's an endeavor constituting a rallying cry to set our course for Mars and beyond, and comprising, in Magnificent Desolation, a comprehensive, cohesive, and incisive chronicle of self-destruction and self-renewal in The Long Journey Home from the Moon.