There's rarely a consensus when it comes to creativity, but ask comic book fans who the greatest writer of modern times is and one name will keep popping up again and again – Alan Moore. His library of comic work is legendary – Watchmen, V For Vendetta, Swamp Thing, Tom Strong, League of Extraordinary Gentlemen, From Hell and many more. Few have combined so well the traditions of fine literature with the conventions of comics, and fewer still have strained the borders of the comic panel like Moore and his collaborators. Again and again, Moore has pushed comics to be more than many thought they could be, tackling race, power, mythology and politics.
Now, in his latest, the massive magnum opus Lost Girls drawn by his fiancee Melinda Gebbie, Moore zeroes in on one topic guaranteed to draw eyeballs – sex.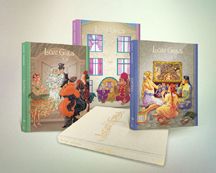 Lost Girls is a tremendous project, a set of three elaborately designed, oversized 112-page hardcover volumes to be published by Top Shelf Productions next month. It could scarcely be more designed to get attention, because in his sweeping examination of sex, lust and desire, Moore appropriates three of children's literature's most beloved heroines – from Alice in Wonderland, a grown-up, middle-aged Alice; from Peter Pan, the girl Wendy now a buttoned-up married woman; and from Wizard Of Oz, a sexed-up young adult Dorothy Gale.
Dorothy at an orgy? Oh no! Yet Lost Girls is an elegant, important work, miles away from the "Tijuana Bible" porn comics. At $75 for its entirety, it's also clearly not aimed at casual browsers. But, having read a preview copy, I can say it's without doubt one of the year's finest graphic novels – finest books, period.
It's a project Moore and Gebbie have been working on for nearly 20 years. Moore uses the "awakenings" each of the traditional stories contained and retells them in sexual terms (you can only imagine what the Tin Man and Scarecrow get up to with Dorothy, for instance). Yet slightly blasphemous as the notion seems, Moore is respectful to these characters in his way. "We didn't want to do something that was a sniggering parody of those works," he said in a recent interview.