...By the writers of AbsoluteWrite.com
====================
"AbsoluteWrite.com" is a web site and email group consisting of writers from all genres and with varying degrees of publishing accomplishment. The forum was founded by Jenna Glatzer, now a successful writer with many projects under her belt, including penning a biography of Celine Dion.
I myself am a member of "AbsoluteWrite" and have been for many years. I've enjoyed Jenna's stories through the years and watched her grow to a successful, busy and happening female writer. She's been an inspiration to me so when Blogcritics was approached for a review of this book I wasn't surprised that Jenna was the force behind pushing it through.
In fact, a call for submissions to this collection of stories by ordinary individuals describing how at certain points in their lives they had to find and utilize a strength they didn't know they possessed, passed through my own email box. The idea was for the members of AbsoluteWrite.com to submit a story of strength in their personal life and how they found and used it to overcome formidable obstacles. The collection would be dedicated to the victims of Hurricane Katrina with all proceeds going to the victims. Not one penny of either administration fees or royalties would be deducted from the proceeds. Even the Publisher Lulu Press, responded immediately to Jenna's plea and turned around the PDF file quickly with no profit.
All for the benefit of fellow Americans victimized by a storm; all to encourage them with their own experiences; all working together to compile an intellectual property from which the monetary proceeds- along with the inspiration and wisdom offered by the book- will help them get their lives back on track.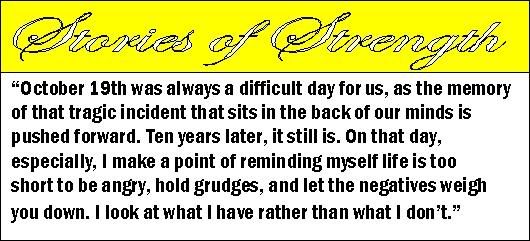 I thought about a submission then shrugged. There were no great heroics in my life. At least none I thought the world would care about.