There were a disproportionate number of Canadians in the newsroom of the English-language paper I worked for in Mexico several years ago, and a sizable number of Canadians in our ex-pat readership, but still, Canadian news rarely made it into our pages. The newswire stories coming out of my home and native land were just so boring. There did come a point just prior to the 2000 federal election when we had to do something, so in went the obligatory coverage on what was expected to be, and was, a landslide for Liberal incumbent Jean Chretien, with few compelling issues on the table. Snooze.
Our saviour amid those dry but necessary articles was Rick Mercer. As a cast member and writer of the satiric CBC series This Hour Has 22 Minutes, he turned the tables on Chretien's Canadian Alliance opponent, Stockwell Day. Day had put forward proposed legislation to force a referendum on any subject as long as three percent of voters signed a petition. Mercer quickly achieved that number on his petition entreating Day to change his first name to Doris, and provided our paper with much-needed sidebar material to liven up the Canadian election coverage. I'm not sure Doris's career ever quite recovered.
No wonder there's a Facebook group called Rick Mercer for Prime Minister of Canada, currently at around 24,000 members and rising. Sure, he's not exactly the best ambassador for Canada worldwide – he's famous for his Talking to Americans segments, where he traps unwitting Americans on the street into saying things like "Happy Stockwell Day, Canadians!" and congratulating us on moving to the 24-hour clock. But Mercer seems to have the answers to what's ailing our country, and even when he doesn't, he hilariously poses the questions. If we can't be right, at least we can be entertained.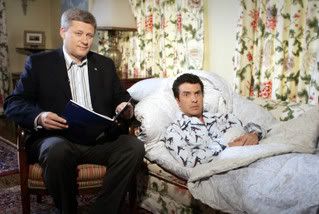 Since 2003, Mercer has had his own show, first called Monday Report then renamed Rick Mercer Report when it moved to Tuesdays on CBC. (As Mercer wrote on his blog, "We ended the season as the highest rated comedy show on the network. Clearly some drastic changes were needed.") As always, he skewers all political sides while cozying up to politicians for hilarious bits like a sleepover at 24 Sussex Drive with Prime Minister Stephen Harper, or skinny dipping with Liberal leadership candidate Bob Rae, or cutting down a tree with Green Party leader Elizabeth May.