In the afterword to his historical true crime tale Midnight in Peking, Paul French describes how he first heard about the unsolved murder and mutilation of the young adopted daughter of a retired British diplomat and China scholar, Pamela Werner, in Peking back in 1937 in a footnote to Edgar Snow's Red Star Over China. He puts the book down, and falls asleep, he tells us, and when he wakes the next morning, the first thing he thinks of is the murder. His conclusion: "When something casually read remains in the front of your brain the morning afterwards, it's usually the sign of a great tale." And French is right.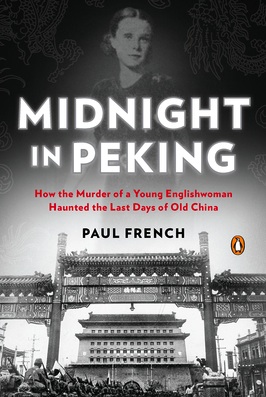 On the morning of January 7 following the celebrations of the Russian Orthodox Christmas, the body of a young school girl is discovered in a rubbish-strewn area on the edge of what we would probably call Peking's red light district. Chinese police are called to the scene. Very quickly an elderly Brit who has been out searching for his young daughter missing since yesterday afternoon when she left to go ice skating with friends, identifies the body. Since the victim is British, a detective with a Scotland Yard background working in another Chinese city is brought in to coordinate and observe, although he is given instructions not to take an active role. The investigation and its failure, the bureaucratic interference, and the father's eventual search for the truth after the case had been closed make for a powerful page-turning narrative.
The Peking of the late thirties was a city that reflected in small the political turmoil that was engulfing the larger world. There was an internal conflict in China between the Nationalists and the revolutionary Communists. A militaristic Japan was making aggressive moves on the country. The city was filled with refugees, White Russians fleeing Stalin and Jews fleeing Hitler, many of them with neither papers or means of support. Many of the Chinese locals were both superstitious and distrustful of foreigners. Representatives of other countries, diplomats and business people led lives of privilege separated from the native population. There was a thriving dark side that catered to thrill seekers and criminals looking for drugs and sex. If ever there was a place ripe for a vicious murder, Peking was that place.